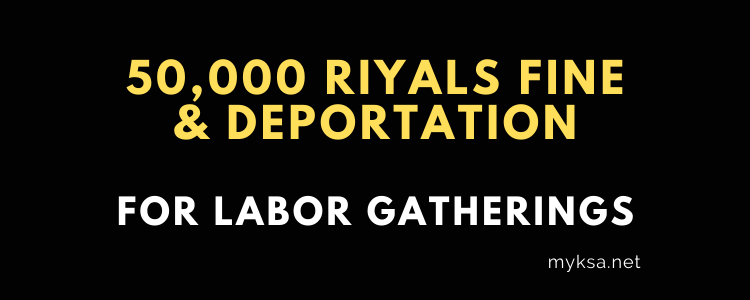 The Ministry of Interior warned against labor gatherings inside the houses or buildings under construction, or rest houses, or farms, etc., other than their housing). Violators will have to pay tough penalties.
The first time, the punishment will be a fine of 50 thousand riyals to the company or organization, and 100 thousand the second time, and the third time the penalty will be doubled and the Public Prosecution will take place.
Those who will invite and attend such gatherings, the penalty will be a fine of 5000 Riyals for the first time, and 10 thousand Riyals for the second time, and referral to the Public Prosecution for the third time.
In the event that the facility is affiliated with the private companies and the violation is repeated. For the first time, it will be closed for a period of three months. In the event that it is repeated for the second time, the facility will be closed for six months. And If the violator is a resident of the Kingdom, he will face the final exit from the Kingdom, and his Re-entry is strictly prohibited after implementing the punishment ordered by the court.
Moi (Ministry of Interior) also asked all who know about any gathering or its place, they can call on the toll-free number (999) in all regions of the Kingdom. While in Makkah Region they can call on 911.
Few More Articles for You
Similar Posts: