As per the Nitaqat System, an expatriate can't work on the Following jobs. These jobs are reserved for Saudis only. Kafeel/Companies cannot ask Govt to issue a temporary, permanent or seasonal visa for the following positions. If any Expats is already working on any of the following designations, Govt will not renew his Iqama. Companies/Kafeels will hire a Saudi Citizen on these Posts in any case.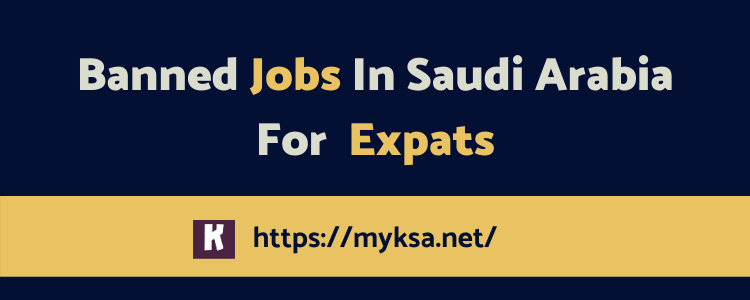 List of the Jobs Banned for Expatriates

 
1. Senior HR Manager;
2. Director of Personnel Department;
3. Director of Labor Affairs;
4. Director of Personnel Relations Department;
5. Personnel Specialist;
6. Personnel Affairs Clerk;
7. Recruitment Clerk;
8. Staff Affairs Clerk;
9. Attendance Clerk;
10.General Reception Clerk;
11.Hotel Reception Clerk;
12.Patient Reception Clerk;
13.Complaints Clerk;
14.Treasurer;
15. Private Security Guard;
16.Government Relations Officer;
17.Key Smith;
18.Customs Broker;
19.Female Employees in Women's Supplies Stores.
What is the Solution?
Well, there is no solution to the problem. However, Companies usually demote the employee and change his occupation.
If Someone is coming to the Kingdom for any of the above Job, then he should be quite clear that he cannot work on the above posts as per law. Company/Kafeel will give him some other work. So it is better to double-check before coming to the kingdom.
You may also like to know about How to Pay Govt. Fees and Penalties Through Sadad.
Also, How to Register Residence Address With Saudi PostAlso Read: