Every year, a large number of expats move to Saudi Arabia on an iqama visa. Applying for the visa takes a lot of time and energy. However, once the applicant gets approval and submits the documents to the Saudi embassy, it is quite easy to check iqama visa status.
In KSA, Enjaz, a dedicated portal by MOFA, provides the said service online. This guide is going to show you the whole procedure.
How To Check Iqama Visa Status Online
Once the applicant submits the required documents, (Passport, gamca medical report, pictures etc) either directly to the Saudi Embassy or through an agent. There is always a desperate wait for stamping of the work visa. However, the applicant can check visa processing status online anytime.
The process has two steps. First, we will find the visa application number. It will confirm that the application is submitted to the embassy. Once we found it, then we will use it in the next step. So, here is the procedure for the first step.
Find Visa Application Number – Step 1
First of all, visit the enajz online portal by clicking the given link. https://visa.mofa.gov.sa/VisaPerson/GetApplicantData
Once the page opens, enter the details.
Enter passport number and nationality.
In Visa Type, select 'Work' from the drop-down menu. Besides, it is the very first option.
For 'Visa Issuing Authority,' select the city where the consulate office is located, and be sure that documents are submitted there.

In case, upon Search, if it leaves a message, 'An Error Occurred, please verify the application data and try again,' then change the city of the embassy in Visa Issuing Authority and search again. Also, recheck the passport number and image code.
Now click on Search.
If the visa application is approved and under process, then a form with a picture and other details will open. The image is given below.
Note down the application number, written in the top right corner. We are going to use it in the next step.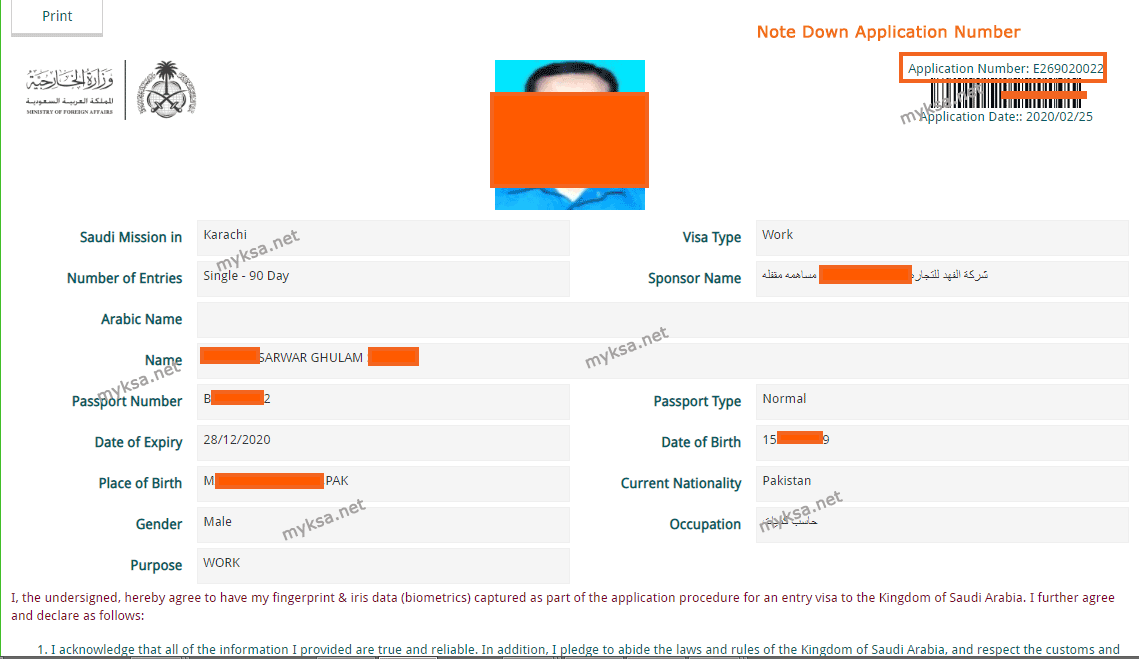 After establishing the fact that the file is under process, now we will check visa status if it is stamped or not.
Check Work Visa Status
Now we will check visa status by passport number and file number ( application number). To do that,
Visit the following link. mofa visa service
While the page opens scroll down until you find 'Query' section
In 'Searching For' Select, Issued Visas By Application Number' from the drop-down menu.
Then enter application number (receipt number or reference number), ( we have noted it down in the first step)
Enter the captcha code and click on Search.
If the iqama visa has been issued, you will find the details of the visa. However, if it is still under process or rejected, then the following message will appear on the screen.
Also Read: