To check istimara expiry date in KSA, you can use Absher app as well as the web portal. In the 'My Vehicles' menu of the app, while on the web portal, you can check vehicle registration validity date in the Services menu.
Procedure
To check istimara expiry date in Absher app, do the following procedure.
Login to Absher App
Tap 'My Vehicles' menu on the main dashboard
Tap the vehicle from 'Vehicles' Menu
In 'Vehicle Details' Scroll down untill you find Istimara (Vehicle Registration) expiry date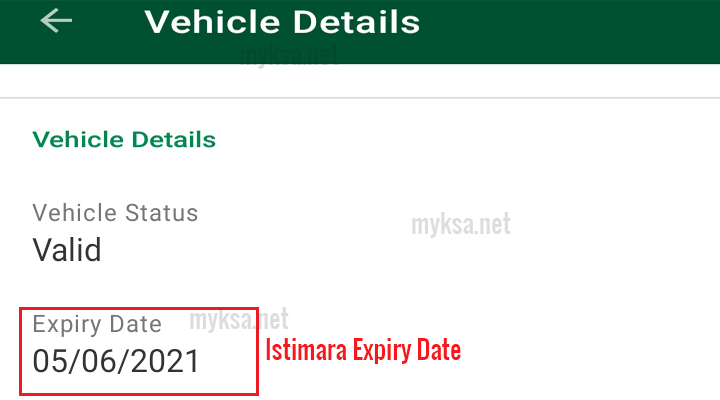 Check Validity Of Vehicle Registration (Istimara) With Absher Web Portal
The vehicle registration validity date can be checked with Absher online web protal as well. To find that,
Login to Absher web portal
Click on 'Service' Under 'Vehicles' menu
Now select 'Vehicles Management'

Click on the Vehicle's name
Under the Vehicle Details, you can check istimara validity date in KSA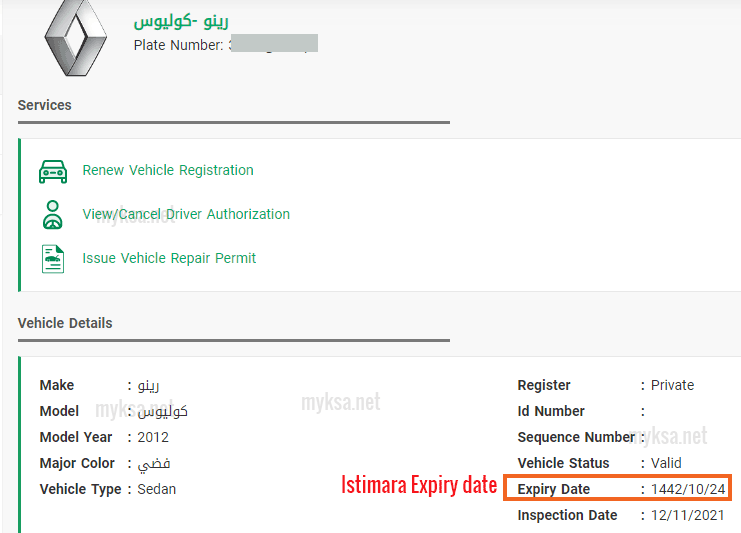 Istimara Validity Period
The validity of istimara (Vehicle registration) for a new car / vehicle, is 3 years. Furthermore, the istimara renews for 36 months from the date of its expiry.
Penalty And Fine on Istimara Expiry In KSA
Muroor allows istimara renewal if it is about to expire in next 180 days or 6 months. If you don't renew vehicle registration in KSA within the time, a fine of SAR115 imposes annually. That means, if you delay the renewal procees for two years, a penalty of 230 Riyals imposes.
Muroor doesnot cancel the registration of the vehicles so you may take it as a grace period. Furthermore, you can transfer the ownership of the vehicle only if you have a valid istimara.
In addition to that, Muroor has announced fines and penalties on traffic violations.
Furthermore, because of the new system implemented in Saudi Arabia, the vehicle registration expiry date is not printed on the Istimara card. Therefore, always check it in the Absher.
Similar Posts: