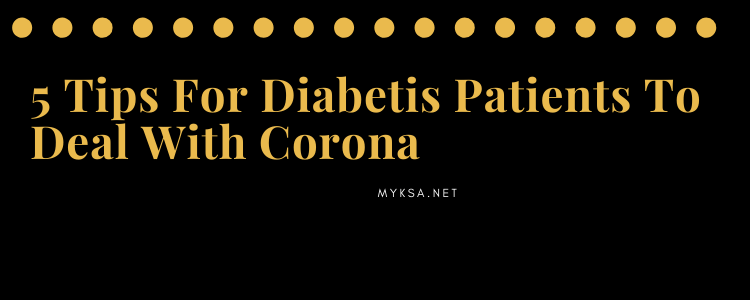 According To the World Health Organization ( WHO), it is estimated that 7 million of Saudi Arabia's population is diabetic, and almost around 3 million have pre-diabetes. In the days of the corona, recent studies showed that diabetic patients have a high chance to get infected with COVID-19 in comparison to other diseases.
However, with proper management of blood glucose level and taking other precautionary measures, diabetic patients can avoid corona pandemic. I am going to share with you some important tips that will be highly helpful.
1- Avoid Media And Check Blood Glucose Level
The stressful news about the mortalities caused by Corona is really disastrous. these are one of the main reason for a disturbed blood glucose level. So doctors recommend close monitoring of blood glucose level. This can be achieved by avoiding media news and focusing on other health activities.
2- Self Quarantine, Practice Social Distancing
The best available cure against COVID-19 is the home self-quarantine. This is one of the best preventive methods especially for elderly aged and chronic disease patients. It is the main reason that most governments around the world locked down the country. So stays at home, defeat corona.
However keep sufficient supplies of medicines especially insulin, syringes and other important medicines.
3- Keep Carbohydrates Food at Home.
Honey, Jam, Dates and most fruits are the quick and rapid source for glucose. If you experience sudden episode of hypoglycemia, use them immediately. These foods are really helpful and you must have at home.
4- Daily Exercise
A routine of daily exercise is always helpful. it helps in maintaining blood glucose level and reduces stress by controlling hormones that create anxiety and stress. Exercise is also best to control weight and reduces the risk of heart disease.
It will also keep you active all day and improve your mood and mental health.
5- Sleep Early and Get up Early
An early sleep between 7 to 9 hours will reduce physical and emotional stress, It will also increase your immunity. The body repairs itself while you are asleep. However, early sleep is beneficial. So make sure that you sleep as early as you can.
We don't need to get scared of the corona but have to fight it. The pandemic will be under control if only we get control over ourselves by avoiding unnecessary outdoor visits and keeping social distancing. Because Prevention is Better Than Cure.
Similar Posts: