You can check how many sim cards are registered on your iqama with the help of iqama number on CITC online portal. On the CITC's platform, " My Number Service (Argami)" helps the residents and citizens to find Active sims on their iqama.
Furthermore, you can also use any of these methods.
By using the CITC sim check service on the Communications and Information Technology Commission's online web portal
Send a USSD code to the cellular network

Call at cellular network's helpline

Check sims on iqama in Absher
citc sim check
CITC (Communications and Information Technology Commission) Saudi Arabia provides a service called "Argami" on its online web portal to check sim cards on your iqama
If you are using CITC online web portal, then you can check sims in iqama
By using the Iqama number
The purpose of the service is to protect the customers from misuse of the sim by others. So that, you can quickly block/cancel the sim which is registered under your name but not in your use.
By Using Iqama Number
If you don't have any sim on your name then use the following method.
Visit the CITC website by clicking the link
Click on 3 vertical dots in the upper right corner
Click on; 'I don't have a mobile number.'
Enter the captcha code and click on Search.
The service will show the list of cellular companies ( STC, Zain, Mobily, etc.) that have registered sim cards on your iqama.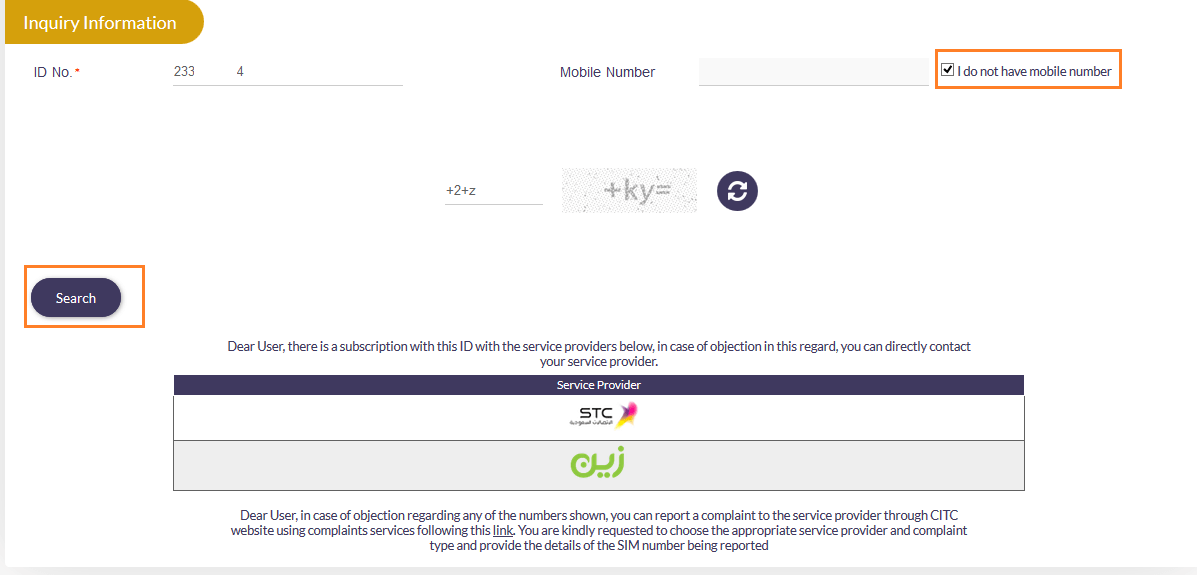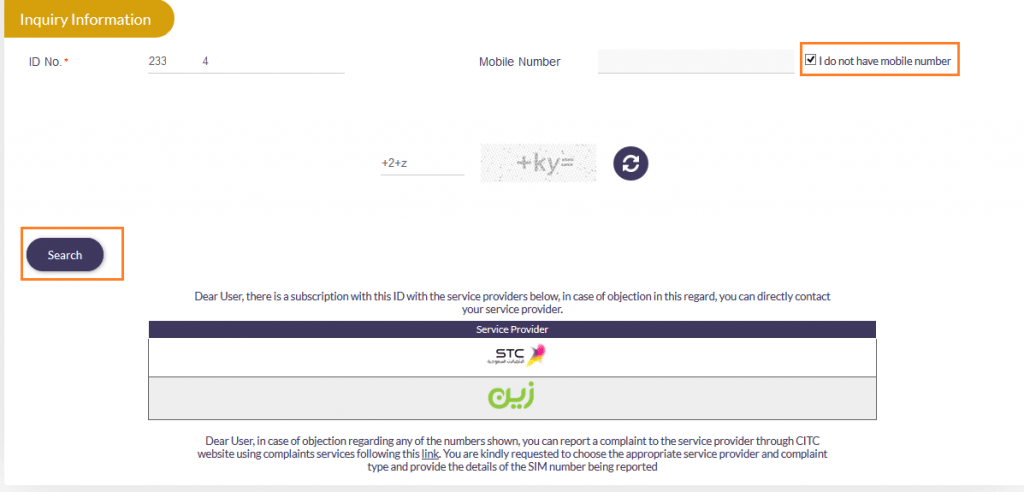 .
Check How Many Sims On Iqama Using Mobile Number and Iqama Number.
To get complete information about the sim cards registered under your iqama, provide a mobile number and the iqama number on CITC portal. In addition to that, you also need to provide the date of birth in the Hijri calendar.
To find your date of birth in the Hijri calendar, look at your iqama card. In front of "تاريخ الميلاد" you can see the date.
Another important thing is that, make sure that you use the mobile number registered on the same iqama number you wish to inquire about the registered sims.
Open CITC sim check service
Click on the 3 dots ⋮ in the upper right corner and select the English language.
Now enter the following details

Actor Type: Select Individual

ID No : Enter Iqama number
Birthdate: Type Date of birth in Hijri
Mobile Number: Enter the mobile number registered on your iqama.

Insert the Symbol code as shown on the screen
Click on Search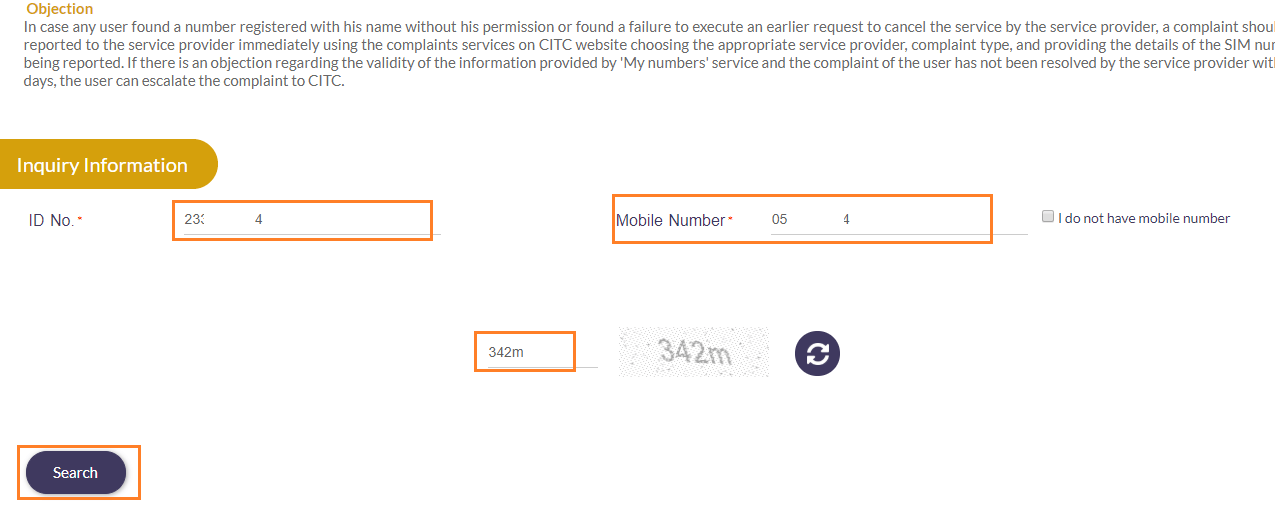 You will receive an OTP on the provided mobile number. Enter it and click on 'Continue'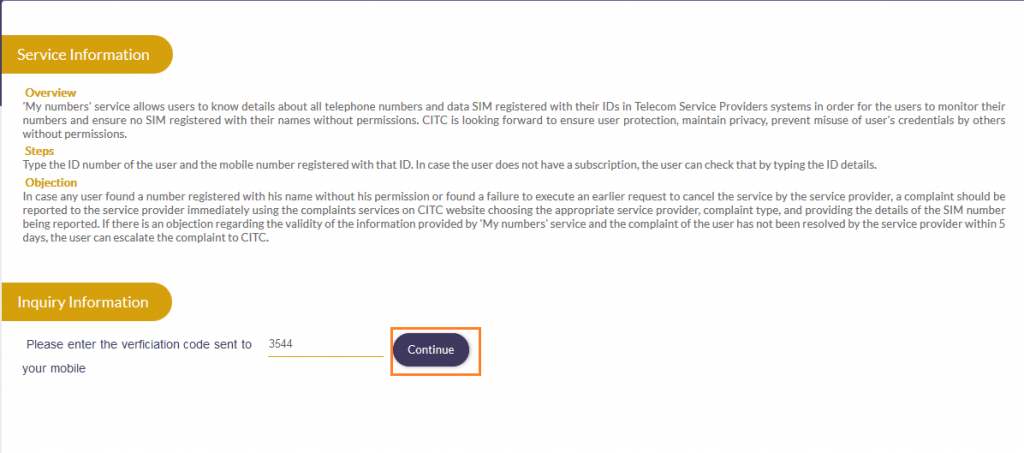 The CITC Saudi sim check service will provide the details about the sim cards registered on your iqama. You can see in the image below that it is showing the exact mobile numbers and the service providers (Cellular Companies).
You also get information on whether the sims in your name are prepaid or postpaid. The system will show details of up to 7 sim cards. Because an expatriate is allowed to register 7 sims (2 prepaid and 5 postpaid numbers) on an iqama.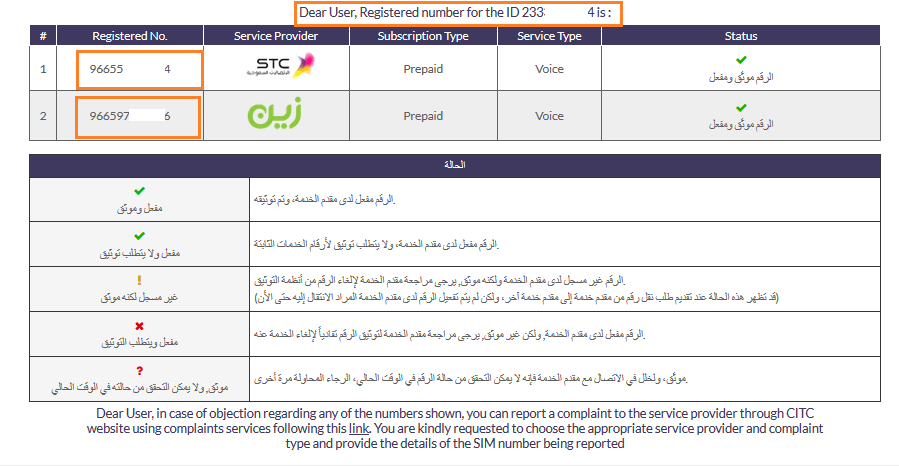 After knowing the information, you can take action, like cancel the sim, which is not under your iqama. Sometimes as it also happens, you lost a sim card and forgot the number. But now you know the number and can re-issue it.
Recommended Read: How To Cancel Sim On Iqama In Saudi Arabia
Check Sim On Iqama In Absher
If you want to check sim cards registered on iqama in Absher, then
Visit the Absher Nafaz by clicking the Link
Click on 3 horizontal lines and select English Language
Enter your Iqama number and the Absher password.
Enter Captcha code and click on 'Login'
Scroll down and click on 'Communications Commission CITC'
On the next screen you will find all the registered sim numbers on your iqama
Send A USSD Code / SMS To Check Sim in Your Iqama
In this method, you can send a message to your cellular network. To check how many sims are activated on your iqama card, send a message to the following number.
If you are a Sawa, STC user, then Send an SMS containing the code 9988 to 900. 
For Zain customers, send a blank SMS to 700123
Mobily customers, send an Empty SMS to 616166
For Virgin Mobile customers, send a blank message to 309985
Lebara users need to write 'ID' in SMS and send it to 1755
Users of Etihad Jawraa for Telecom and Information Technology Company MVNO, send an SMS to 1755 by writing 'ID'
You will receive a message that will confirm how many sims you have on that network. For example, if you are a zain customer, then sending a blank SMS to 700123, will provide you with the information about how many sims are registered in the zain network on your name/iqama.
Here is a screenshot of a message sent on the STC network. The service replies with the sim number and its status (موثّق بالبصمة) which means that it is an authorized sim with the fingerprint.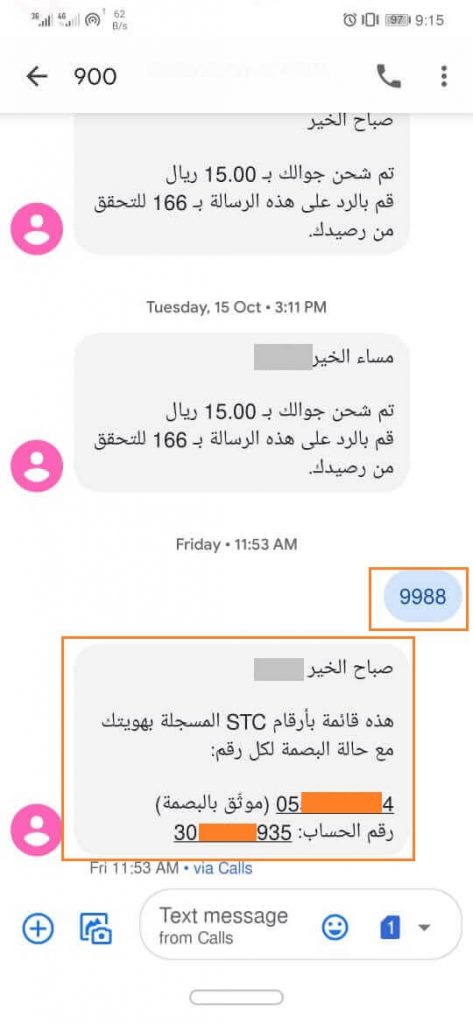 Call At The Customer Care Helpline
Every cellular network provides a customer care helpline to provide better service to their customers. You can ask for the sims details by calling them. In addition, you can also block or cancel sims registered on your name or iqama number.
Zain Customer Care: 959. You can also dial 0590000959 from other networks
Mobily Helpline: 1100. Other networks users can dial 0560101100
STC Customer Care: 900 or, Dial 114 555 555
Friendi Users Helpline: 166000 and 0571166000
Virgin Mobile: 1789
Lebara Helpline: 1755 or 0576001755
How many sims are allowed on an iqama.?
You can buy 2 prepaid, and 5 postpaid sims on your iqama in Saudi Arabia. But the said limit is for voice, calling sims. However, you can buy Internet, data sims as many as you can. There is no restriction at all.
You may also like to know about SAWA Internet, remaining data balance for prepaid and postpaid packages.
Do you know: You can send the balance From STC to international numbers in more than 34 countries? Check the details in this article. Send Balance From STC to International Numbers.
Similar Posts: