You can check iqama Medical health insurance validity and status in 2 ways;
By using CCHI (The Council Of Cooperative Health Insurance) online portal
Through Absher platform.
And, You just need to enter the iqama number either, using Absher or CCHI portal.
Another aspect of having health insurance is that it is mandatory for the iqama renewal and issuance. It is also a must requirement while applying for a family visa.
As per law, every expat must have valid medical health insurance in KSA. The insurance also results in terms of a great healthcare facility at a very low cost. And, the best part is that the sponsors pay for it.
How To Check Medical Insurance In Absher: For Iqama Holders
Ministry of Interior keeps a record of your iqama health insurance and displays its status and expiry date in the Absher portal. You can use both, Absher's online Web platform and, the App to check medical insurance. The procedure is as follows.
Log in to the Absher plateform
Under 'Other Services' Tab, click on 'Health Insurance For Residents Information
Enter Iqama number
Enter image code and click on view
On the next screen, Absher will show health insurance status online.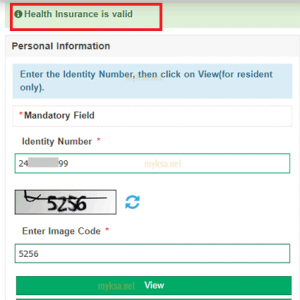 Check Health Insurance On Iqama Through CCHI Portal
On the CCHI Saudi Arabia web portal, a dedicated service " Insurance Information Inquire" is available. The service helps the iqama holder expats to check insurance status. Just enter the iqama number and the code. To do that,
Visit the CCHI portal
Enter 'Iqama Number' in the Identity Number field
Enter the 6-digit code.
Now click on the 'OK' Button
The Next page shows Iqama insurance status and its expiry date.
Furthermore, If you don't have valid insurance then the screen shows the following message.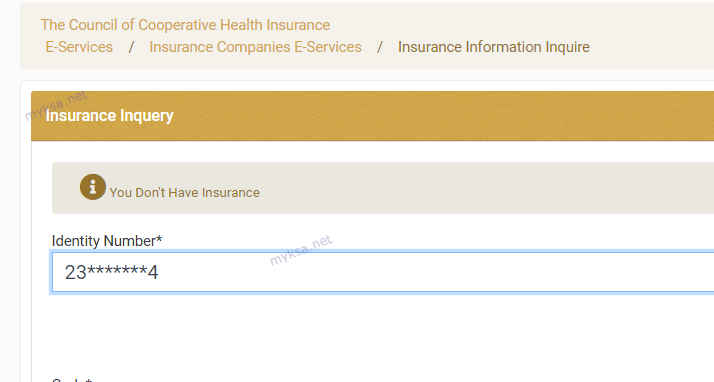 The page also shows the details about the policy number and the insurance company.
Interested: Would you like to Know 7 best ways to find Iqama Expiry Date
Also Read: