Iqama renewal is now an online process in Saudi Arabia. The moi Absher portal is renewing iqama electronically without visiting any office.
In addition to that, there is no need to fill out the application form and submit it physically. All you need is to pay the renewal fees.
Furthermore, the renewal process is the sole responsibility of your kafeel or company. Now, they can submit the application form online, and within a few minutes, the renewal procedure completes.
Moreover, the sponsor is bound to pay iqama renewal fees, except the dependents levy.
In addition to that, expats from a few countries have to pass a medical test from Efada approved hospitals
These countries are Nepal, Thailand, Vietnam, Sudan, Nigeria, Somalia, Djibouti, Kenya, Ethiopia, and Eritrea. The citizens of other countries don't need to go through medical tests.
Iqama Renewal Procedure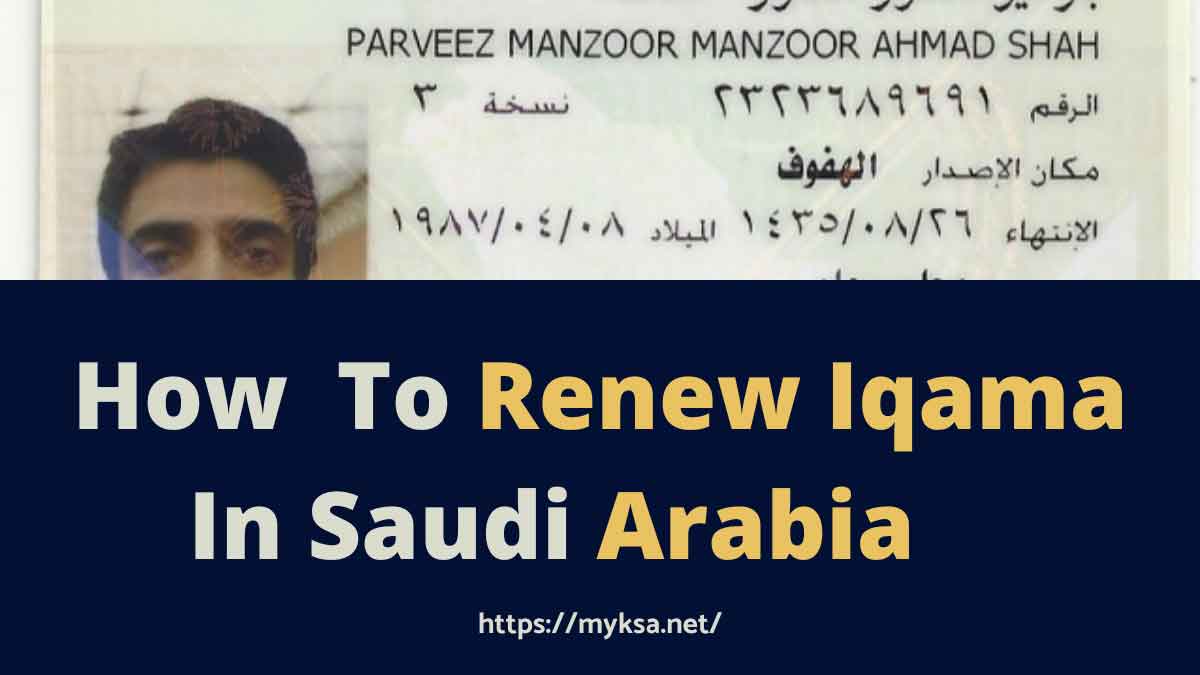 The procedure is the same for computer technicians, programmers, technicians, electrical technicians, nurses, general accountants, and almost all other professions. The renewal process involves the following steps.
Requirements
The foremost iqama renewal requirements are paying the fees, conducting the medical tests, registering in the Saudi council of engineering, and paying dependents fees if applicable.
Pay Iqama Renewal Fees
Sometimes Sponsors are in a financial crisis; they ask the employer to pay the fees to renew iqama. In that case, the employee will pay the required fees.
650 riyals is the iqama renewal fee, 8400 riyals to 9600 riyals is the Maktab e Amal ( Work Permit ) fee. And an average amount of 500 riyals is required for medical insurance.
Now Jawazat has allowed paying iqama fee quarterly, and for 6 months. It means that iqama can be renewed for 3 months and 6 months also.
If you have a family, then pay the dependent charges as well. The dependent levy is paid at the time of renewal of iqama per annum.
Medical Test ( If Applicable)
As we have stated above, nationals of a few countries require to pass the medical tests. So most expats need not worry about it.
In KSA ( Saudi Arabia), there are authorized medical centers that conduct the tests. You can find the list of hospitals here.
The person who needs to pass a medical examination doesn't need to collect it manually. Because MOI sends it online to the concerned authorities.
Following medical tests are conducted,
Chest X-Ray
Urine Test
Stool Examination
Malaria
Hepatitis B
HIV Aids
Pregnancy Test for females
Hernia
Vision Checkup
Hearing Test
Valid Membership Of the Saudi Council Of Engineering.
To renew iqama, it is a must to have a valid membership of the Saudi council of engineering. Iqama renewal process doesn't start unless you have an active membership.
Those who are members must check their validity. If it is about to expire or expired, then renew it first.
The online process will reject the renewal of iqama if it is not active.
Almost more than 300 professions fall under SCE and require an active membership.
Recommended Read: How To Renew SCE Membership
Pay Dependents Fee ( If Applicable)
If you have family in Saudi Arabia, then you must pay the dependents levy. These charges are collected at the time of renewal. You will have to pay for it.
To pay the dependent levy you will need sadad number. You can get it from the ministry of labor website.
After making the payments, ask your HR/ Kafeel for the next procedure.
Pay The Iqama Late Renewal Charges, Penalty, Or Fee
Due to any reason, if the iqama couldn't renew in time, then you will have to pay iqama expiry fine, through any banking channel. The late renewal fines are as follows,
1st-time late renewal – 500 Riyals penalty
2nd time delayed renewal – 1000 Riyals fine
3rd-time iqama expired – 1000 Riyals fine and final exit.
We have observed the said problem with many people, especially technicians, foremen, and those who work on construction sites.
Sometimes the sponsor is unable to renew iqama in time. In that case, it is his responsibility. You need not worry about that.
Ask HR To Start The Procedure To Renew Iqama
Once you have met all the above requirements, visit the HR office or Kafeel and tell them that you have done the above procedures. HR will check all the paid fees and renew Iqama in a couple of minutes.
You will receive a confirmation SMS on your mobile. You can also check it using the query iqama expiry service in Absher.
As of the new system, you won't need to submit the old iqama to jawazat as the iqama id card is valid for 5 years. The authorities verify iqama validity through the online system nowadays.
Iqama Renewal For Dependents Above 18 Years Of Age
The rule for iqama renewal in Saudi Arabia states that, if any of the dependents (male) reaches the age of 18, the sponsorship will transfer to a Saudi Citizen or a Company.
However, if the dependent is studying, then he can stay under the parent's sponsorship. But after reaching the age of 25, either the sponsorship changes or the dependent will have to leave the country.
However, the daughters can stay under their 'parents' sponsorship until they get married.
For iqama renewal for dependents above 18 years of age, the procedure is as below
Visit the nearest Jawazat office
Fill out the application form and make sure that all information is correct
Copy of dependent's iqama and father's iqama.
School or college certificate
Bring 2 recent photos size 4×6 cm
Bring the valid passport of the dependent
Pay iqama fee which is 500 riyals per year for the dependent
The medical test must be conducted and passed by any of the Efada approved hospitals
The dependent must have fingerprint registration in Jawazat. If not then bring the dependent to the office and register fingerprints.
You can also give the above documents to the HR of your company or kafeel. They will visit the Jawazat office for the renewal process.
if dependents are outside Saudi Arabia?
Jawazat allows iqama renewal of dependents who are outside Saudi Arabia. However, they must have a valid exit re-entry visa and all fees have been paid.
In addition to that, if the family or dependents have left Saudi Arabia on a final exit visa, their iqama becomes null and void. Therefore it can't be renewed.
Iqama Renewal Fees For House Drivers (Saiq Khas), Maids,
There are only two charges or fees to renew iqama for domestic workers that include house drivers and maids.
1-Iqama renewal fee ( 600 Riyals), 2- Medical health insurance (400-500 Riyals). Thus it is the cheapest renewal (just 1000-1100 riyals). Besides, there are no charges for Maktab Amal ( Work Permit fee) for these professions.
Furthermore, these professions don't fall under the Nitaqat system. So the renewal process doesn't get late for the red or yellow category problem.
How To Renew Iqama Outside Saudi Arabia
Iqama can be renewed if you are outside Saudi Arabia. This can be done by paying iqama renewal fees and all other charges associated with the iqama renewal process.
Through the Absher platform, the process will take place as directed by Jawazat KSA.
Iqama Professions Not Allowed For Renewal
After the implementation of Vision 2030, there are plenty of professions that are not eligible for iqama renewal. If you have that profession then you will have to change it first. A brief list of such professions is as follows,
Accountant
Administration
Manager Administrator
Chief Accountant
Driver
Finance
Manager
Forklift Operator
Human Resource Manager
Logistics Supervisor
Office Boy
Office Manager
Receptionist
Sales Assistant
Sales Manager
Sales Supervisor
Salesman
Secretary
Senior Accountant
Warehouse Manager
How To Renew Iqama In SABB Bank
There's an easier way to renew your Iqama. You can do it through the SabbMobile application by submitting a renewal fee. Here are the steps to renew your Iqama through the SabbMobile app:
Open the SabbMobile application and Login into your account.
Click on the Trigram Symbol (≡) on the top left.
Go to the Bills & Payments tab.
From there, click on MOI Services under Government Payment.
From the new window, click on Aliens Control.
Now click on Renew Iqama.
Select a Valid Duration and click on Get Amount.
You will see the total amount to be paid. Click on Pay Now and select the Account from which you want to pay the renewal fee.
A confirmation window will appear. Check all your details and click on Confirm Payment.
Your Iqama renewal fee is paid.
You can now update renewed Iqama by following the methods explained above
Iqama Not Renewing: Possible Reasons
There can be many reasons why the iqama is not renewed. you can ask HR about the possible reasons. However most of the time it can be due to because of non-payment of iqama renewal fees.
Frequently Asked Questions
What Is The Age Limit For Iqama Renewal In Saudi Arabia
Due to Saudization, the sponsors are not renewing iqama of the employees reaching the age of 60 years. However, the maximum age limit for iqama renewal is 65 years.
Mandoob or the company's representatives will visit the Jawazat office physically to renew iqama for residents above 60 years of age.
However, in most cases, companies offer end-of-service benefits to employees of that age.
How to Renew Iqama After 60 Days Of Expiry
If the iqama is not renewed even after 2 months of expiry, the residents have two options
Renew iqama by paying delay penalty
Transfer Sponsorship without Kafeel's approval
. If you decide to renew iqama then the kafeel or a representative of the company will visit Jawazat office and submits the documents.
You have to pay a penalty as a late fee or a delay fine. You can pay the said fee by visiting your HR department, as they have access to the service.
What Is The Iqama Renewal Expiry Date
The iqama must be renewed before 3 days of its expiry. If it is late, then the sponsor will have to pay 500 riyals as a fine for the first instance.
And 1000 and 1500 riyals for the second and third instances, respectively. There are many other fines on iqama that you must know while living in Saudi Arabia.
What is the Renewal Procedure If the Company Is In Low Green Or Yellow?
If your company falls in yellow or red, the iqama will not renew unless its category changes to green or platinum. The process to renew iqama is the same, whether it is a low green, medium, or high green nitaqat category.
However, those who fall into the yellow category will have to wait a little longer. As the sponsor gets back to green, the iqama will renew instantly.
You may like to know more about these categories in this article.
Nitaqat Categories (Red, Green, Yellow, Platinum) Benefits
How Many Days The Renewal Process Takes.
If you have paid all the fees that are required for the renewal of iqama, then the renewal will be complete in about 3 minutes only.
Through the 'Absher Business Portal,' your sponsor can renew it with the minutes. Also, you don't need to collect it because now it is an online renewal.
Before How Many Days Or Months Can We Renew Iqama.
Iqama can be renewed 180 days or 6 months before its expiry. However, most of the companies renew iqama 1 -3 months ( 30-90 days) before it is going to expire.
The reason is that many employees don't want to extend their contracts. The legal time frame to inform the sponsor not to work further is 90 days before the contract expires.
So it is a loss for the sponsor to renew it before 90 days of expiry.
Is There A Grace Period For Renewal Of Iqama?
The Jawazat clearly instructs to renew the resident ID before 3 days of its expiry, which means that there is no grace period for renewal. You are considered illegal the day your iqama expires.
Can We Renew Iqama If the Passport Is Expired?
In the Absher portal, you get a notification when the passport is about to expire. It means that you need to renew your passport as soon as possible.
Unluckily, the jawazat system doesn't start the iqama renewal procedure if the passport is expired. So visit your consulate and renew the passport to avoid the late iqama renewal penalty.
Do We Need Iqama Renewal Form From Jawazat?
As of 2021, there is no need to fill out a renewal form and submit it to jawazat. Absher portal renews iqama online in Saudi Arabia within a few minutes.
The only condition is that your kafeel or sponsor should have registered on the Absher Business portal ( a dedicated portal for sponsors)
Also Read: