You can renew istimara online by using moi Absher's web portal as well as through Absher App in Saudi Arabia. However, as a pre-requisite, pay the vehicle registration renewal fee and traffic violation penalties if any. And, also get a vehicle insurance.
Visit the nearest Fahs, MVPI center for vehicle inspection tests. After fulfilling the requirements, log in to Absher platform for the online renewal procedure.
Requirements To Renew Istimara in Saudi Arabia
Before you start the online procedure of vehicle registration in Absher , you need to fulfill the following criteria.
Register in Absher KSA.
Registering in Absher is the first requirement to start the renewal process. If you don't have an account then you can register a moi Absher account easily. You can access the renewal service only if you have an account.
Pay the Renewal Fee For Istimara ( Vehicle Registration).
Absher doesn't start the service unless you have deposited the renewal fee. The istimara renewal charges are 300 Saudi Riyals for private vehicles in 2022. Before the cost was just 150 riyals. For the Taxi, trucks, and minibusses, the renewal charges are 600 Saudi Riyals.
You can deposit it using your online bank account, ATM, or through Sadad account. The validity of vehicle registration is 3 years.
Pay All Traffic Violations
If you have unpaid traffic violations, then pay them first. You can check all traffic violations in your Absher account. To pay all violations at once, you can use the bank account. You can also pay grama (traffic violations) using Tahweel al Rajhi or Quick Pay account.
Validity of Istimara
Absher will update your istimara only if it is going to expire within 180 days (6 months). The expiry date is available on your istimara card. However, there is the possibility that the expiry date is not available on it. In that case, you can check it in your Absher account.
Perform the MVPI Fahas
Fahas is another requirement to renew istimara. If you don't have valid fahes, then go to any MVPI center and pass the test. Nowadays, muroor checks it and if you don't have it, muroor can charge you a fine of 150 riyals. So keep it updated.
Furthermore, you cannot renew vehicle registration without passing the motor vehicle inspection test.
To avoid a fine and a security check at checkpoints ( Nukta Tafsheesh), don't remove the sticker from your vehicle's front screen. Traffic police take a picture and send a penalty message on your mobile.
Get The Vehicle Insurance
Your vehicle must have valid insurance at the time of renewal of the istimara. You can buy insurance online. Several insurance companies are offering online vehicle insurance in Saudi Arabia. You may give a try to Walaa insurance as we found it cheaper than other companies for Hyundai and Kia.
Also, Please note that there is no need to fill istimara renewal form because now you can renew it online using Absher services.
Procedure To Renew Istimara Online in Saudi Arabia
After fulfilling the above requirements, you can start the istimara renewal procedure. Using the Absher app for the procedure is easy and time-saving. However, You can also use the Absher website.  Both procedures are online and There is no difference. Let's start the process by using the App.
Log in to the Absher app
In the Dashboard, click on ' My Vehicles.'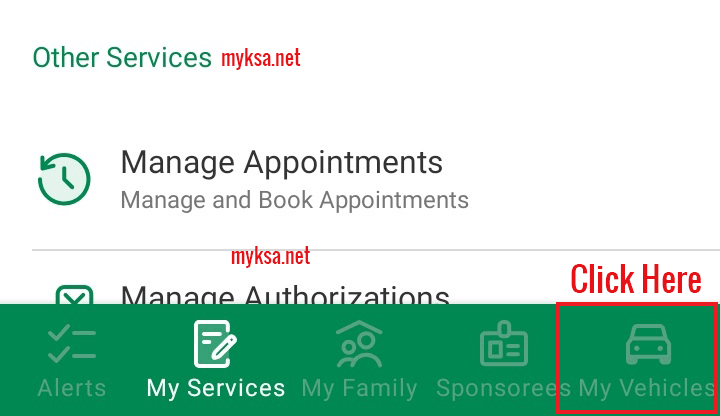 Click on the 'Vehicles' Tab and select the vehicle
Now Click on 'Renew Vehicle Registration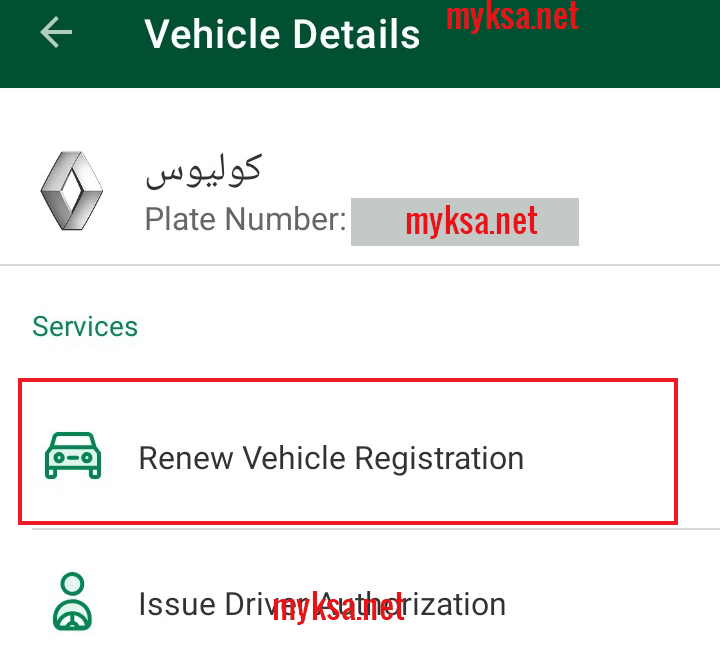 On the next window, select 'Terms and Condition box and click on 'Renew Vehicle Registration"
The renewal service will initiate and on the next window you can see a message," Your Vehicle Registration Has Been Successfully Renewed"
Congratulations.! you have successfully renewed your vehicle registration ( Istimara). You will also receive a confirmation message on your mobile from MOI Absher.
How To Check Istimara Expiry Date
You can use Absher to check istimara validity.
Read the detailed guide: How to check Vehicle Registration Validity Date Online In KSA
In addition to that, it is important to know that the Validity of Istimara is 3 years.
How to Collect Istimara In Saudi Arabia
To collect istimara card, you have 2 options, either visit the Muroor (Traffic Department) office or use the Saudi post's Waseel service for the home delivery.
To visit the Traffic department, you need to book an online appointment through Absher. After that, you can visit the office and collect istimara.
I am providing the locations of istimara collection centers. In addition to that, you will also know about the procedure for the home delivery of the card through Saudi Post.
Check Istimara Renewal / Vehicle Registration.
After the successful process of istimara renewal, you can check vehicle registration on the Absher web portal.
For that purpose, Log in to your account. Click on Dashboard, then click on vehicle information. There you can check the expiry date of vehicle registration in KSA.
You will also receive a confirmation message on the mobile number associated with your Absher account. You may archive it for future use.
Frequently Asked Questions
What to do if Istimara is Lost?
In case you lost the istimara ( vehicle registration card), you can get a new one by following the process, given below.
Pay a fee of 115 Riyals for the re-issue of the vehicle registration card.
2. Go to Istimara Issuance Center (Traffic Police office).
3. Ask them to issue a new istimara because you lost the previous one. Besides, inform them that you have paid the istimara issuance fee.
4. Within 10 to 15 minutes, they will issue you the new Istimara.
I need Istimara application form
As per the new system, you don't need the istimara application form. Because you can renew it online. We have provided the process for the renewal of istimara above.
What is the penalty on Expired Istimara
115 riyal is the penalty on expired istimara. To avoid it, renew the istimara on time. However, there is a grace period of 30 days after the expiry. So make sure that you renew it before the grace period ends. Otherwise, the penalty is a must.
Can I transfer Istimara?
Yes, you can transfer istimara. The transfer fee is 150 riyals. You can pay the fee through your bank account or ATM.
I am driving without Istimara.
If muroor catches you while driving without istimara, he can issue a mukhalfa ( traffic violation penalty) between 500 Riyals to 900 riyals.
Expired Istimara Renewal
The renewal procedure is the same as described above. Except, you have to pay 400 riyals as a renewal fee in Saudi Arabia. Besides, the Validity of Istimara is three years. After that, you will renew it again.
Also Read: