Are you searching for how to recharge STC Sim in Saudi Arabia? Sawa STC offers many methods including online channels like credit or debit cards, net banking, Mystc app, etc. All methods equally work for prepaid and postpaid sims as well.
Recharge STC Sim In Saudi Arabia
You can recharge Sawa by using offline ( recharge vouchers and cards) as well as through online channels. I am going to explain all of them one by one. But first, let's discuss online methods.
Online Recharge Methods
The very first method to recharge STC online is by using a bank account. You can recharge STC from NCB, Samba, Riyadh Bank, Sabb and, Alrajhi Bank. I am using the NCB bank portal. However, the process is almost similar to using other bank accounts.
Recharge Sawa STC From NCB Bank
First of all, it is important that you have activated the online banking option. If you haven't, then visit the nearest branch or call the helpline of your respective bank. By using this transaction channel, you can recharge any STC Sawa Number. Ok, let's dig out the process of STC recharge from NCB bank.
Visit NCB bank Online Portal or open Alahli app. ( I am using the App)
Enter the username, password, and OTP to login.
On the main menu screen, tap on 'Sadad'
Now select 'Mobile Recharge', that is 4th option
On the next screen, before doing anything else, add a mobile number ( Tap on the last option, Add Mobile)
The next screen shows details, enter the mobile number you wish to recharge, Full name, and a short name.then tap on ADD Mobile.
Enter OTP (you will receive it on your sim), to successfully register the mobile number. Then, Tap on Finish.
Now you are back to the Sadad menu. Select again 'Mobile Recharge'
Select Biller 'Sawa' and tap on Recharge.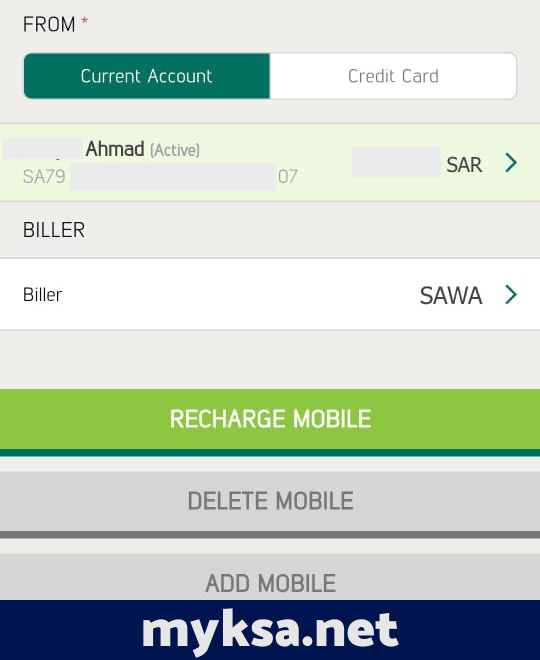 Now select the mobile number you added a few seconds ago. Check the number and tap on Select Amount.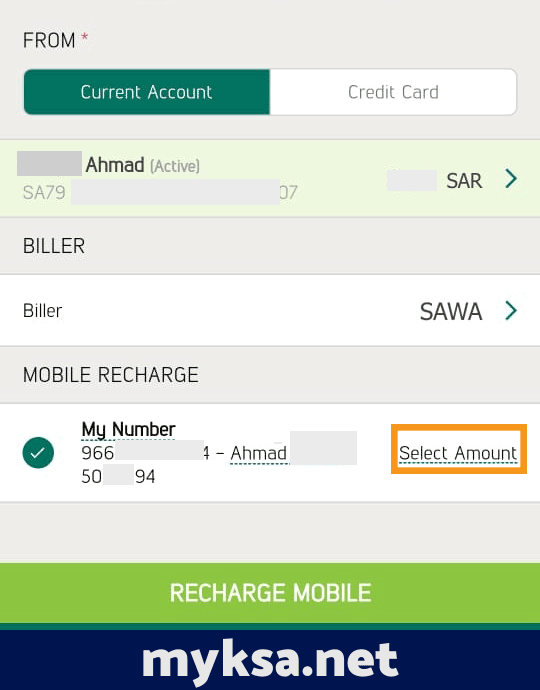 Enter the amount you want to recharge and Tap on Recharge Mobile.
On the next screen, check the details, the amount, and click on Confirm.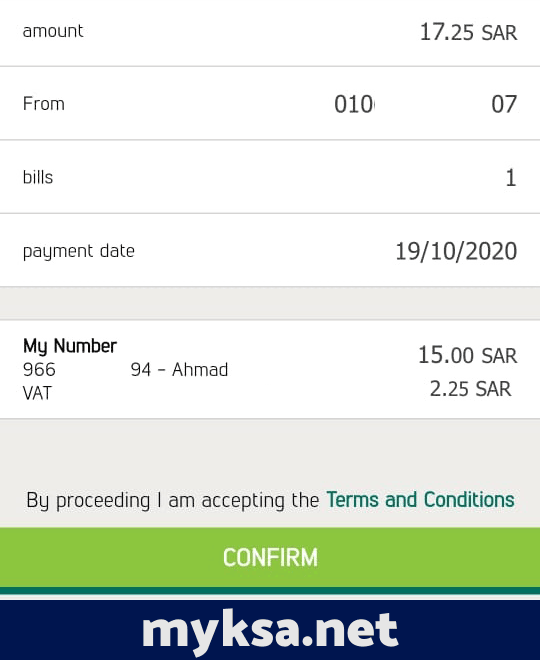 The next screen will confirm the recharge process. You will immediately receive a confirmation SMS also.
Recharge Sawa, STC By Credit Card | Debit Card
Another popular option that Sawa STC provides to its customers, is to recharge using a Debit or credit card. You can use a credit card in many ways. However, using it through MySTC app is the easiest and convenient method. And here is the step-by-step guide.
Open MySTC App. ( If you don't have then download from Playstore or Itunes)
Login by providing the mobile number.
On the main screen, You will find the balance amount. Along with it the option for Recharge is Available. Tap on it.
As you tap on Recharge, a new menu pops out. Select the option Pay With Card.
Now you have the balance amount screen. Select the recharge amount. The maximum recharge can be of 345 Riyals and a minimum of 16 Riyals.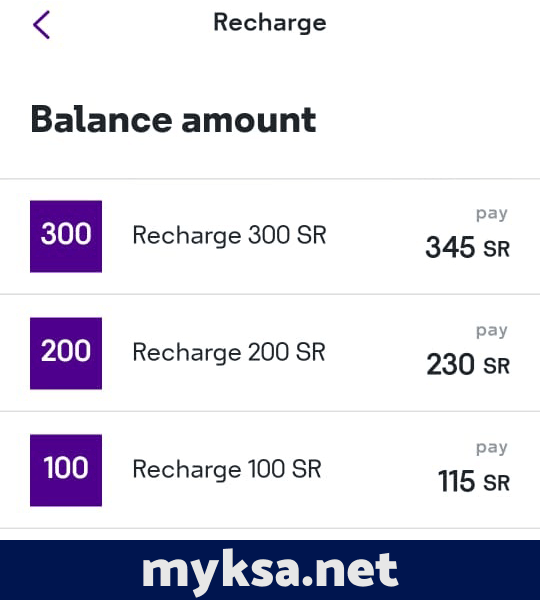 The next screen shows many options. Select the type of credit / Debit card through which you want to pay. I am selecting the Master Card.
Enter the card details on the next screen. and slide the button to confirm the payment.
The next screen shows the confirmation of the recharge. If the payment declines then find the reason by contacting your bank.
If you are in another country like India, Philippines, Pakistan, You can use the above method quite easily. But you must have MYSTC app, Sawa (STC) sim, and a credit card. Furthermore, You can only load that sim, which is registered with MYSTC app.
STC Pay | Another Great App To Top Up Sawa Sims | Prepaid And Postpaid.
STC pay is mostly used for sending money outside the kingdom. But you can also use it to recharge STC sims. Here is the procedure.
Register and then open STC Pay app.
Log in to the app by providing the mobile number and the pin code.
On the main screen, look at the bottom menu and, select STC Corner.
Now Select Recharge Sawa and enter the STC number. You can recharge any Sawa STC sim.
Enter or select the amount and tap on confirm.
isn't easy to use the STC pay wallet? Yes, it is. In addition to that, you can use online methods conveniently instead of buying a recharge card online.
Buy A Recharge Card, E-Voucher.
It is the most common method ever used. Just visit the nearest general store (Bagala) and ask for a Sawa STC Recharge card. It is possible that the shop keeper may give you an e-voucher. Take it and dial the following code.
Your sim will recharge instantly with the amount equal to the card price.
Also Read: How to Send Balance From STC to STC
How To Extend STC Sim Validity
Whenever you recharge Sawa STC sim, the sim validity extends itself. On a recharge of 15 Riyals, the validity increases for 90 days. If you don't use sim and its validity expires, then the balance gets zero. After that, you have 3 months to recharge it again.
If you don't recharge it within 90 days, then STC terminates your connection. In that case, you will have to buy a new sim.
Similar Posts: