Last Updated on
Final Exit visa (Khurooj Nihai) is a visa when you decide to leave Saudi Arabia permanently. Once you exit KSA, you cant re-enter on the previous visa and iqama. Now, You will have to apply for a new visa to enter into the Kingdom. If you are leaving KSA lastingly, then Absher Portal will facilitate you to check final exit visa status quite easily. The procedure is simple and takes 2 minutes only.
Check Final Exit Visa Status (خروج نہاٗی)
To check the final exit visa status in Saudi Arabia, you must have an Absher Account. If you don't have, then create an account super easily. However, if you have an Absher account, then follow the procedure.
As of 2020, MOI Jawazat sends an SMS to the applicant. However, the applicant must have an Absher account. And, the mobile number must be associated with that to receive the SMS.
Login to the Absher portal by providing the username, password, and OTP.
After successful login, click on 'Dashboard.'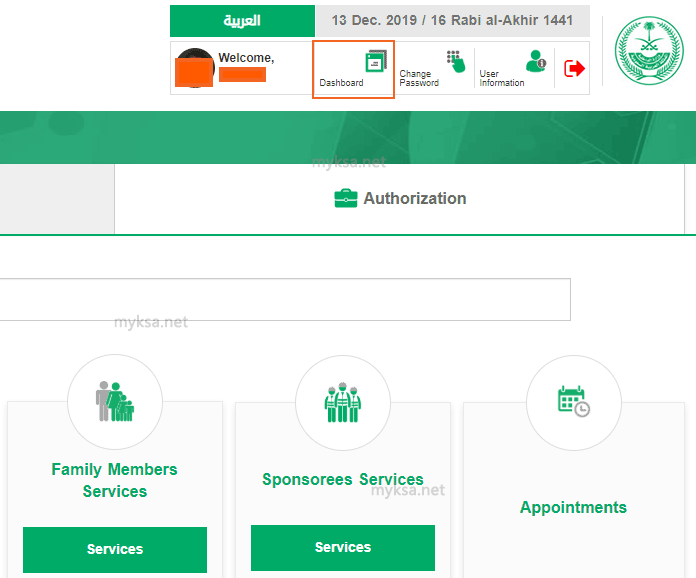 In 'DashBoard,' click on 'More Details,' written under your Name Tab.
A new window will open containing personal information, Iqama information, and Visa Information.
Scroll down to Visa Information Section and check 'Visa Class'
If the Visa Class is 'Final,' then it means that the final exit visa has stamped.
2nd Method: Using MOL Portal
There is another method to check final exit visa status. The method involves the use of the ministry of labor portal. In this method, you need to provide an iqama number and the captcha code. But the fact is that this method doesn't work anymore.
In fact, by this method, you can check the status only after the respective person has left Saudi Arabia. So, there is no use of it anymore.
You can see that the mol portal is showing the status as " On The Job." But, the status in Absher for the same person is "Final Exit Visa." Hence this method is obsolete now. So always check it in the Absher portal.
3rd Method: Using Eserve Portal
Many people believe that the final exit can be checked at the eserve portal. But, in reality, the said portal works for exit re-entry visa only. You can check for that type of visas through the portal. We will put the details of a person who has an issued final exit visa and let's see what the eserve portal tells us about the status.
When we clicked on "Check," the result was as follows.
Why did the eserve portal result in an error or invalid visa number? Because the portal is made for exit re-entry visas status. Therefore the Absher is the only portal that will show you the status for the final exit.
We also have a detailed post about the visa issuance for dependants that you may like to read.