A resident can apply for a final exit visa anytime during his stay in Saudi Arabia. If you have requested to move permanently from KSA to another country then, you can check khurooj nihai in many ways.
What is Final Exit Visa – Khurooj Nihai
The final exit visa is a specific type of visa issued by the MOI- Saudi Ministry of Interior upon the request of a resident to leave KSA permanently.
Khrooj nihai can be applied upon the end of the contract or during it as the Saudi laws don't put any restrictions. The new rules allow the applicant to request its cancellation within 90 days if he finds a new job and wants to stay in Saudi Arabia.
Check Final Exit Visa Status – Khurooj Nihai (خروج نہاٗی)
To check final exit visa status, MOI Absher and the Ministry of Labor provide dedicated services.  The methods to use both services is given below: 
Check Khurooj Nihai With Absher
Login to the Absher portal. https://absher.sa/
After successful login, click on the 'Dashboard.'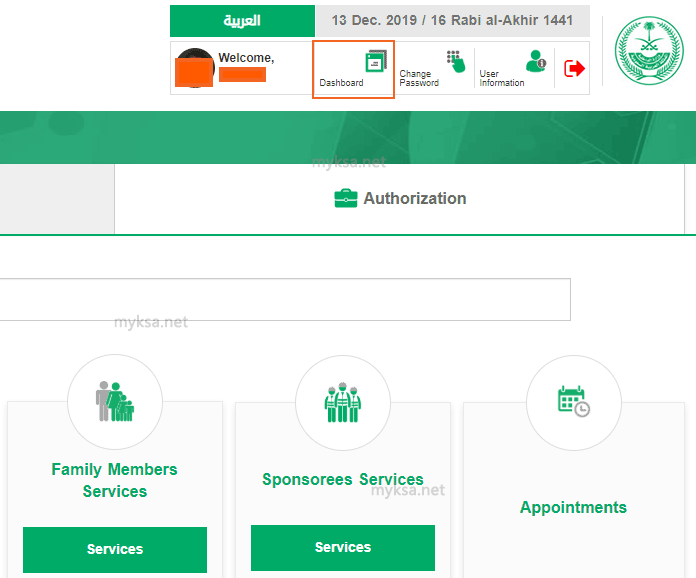 In 'DashBoard,' click on 'More Details,' written under your Name Tab.
Scroll down to the Visa Information section and check 'Visa Class'
The final exit visa has been stamped if the Visa Class shows as 'Final,'
Check Final Exit Visa Status on MOL
To check final exit visa status on the Ministry of Labor portal you need to provide a few details and view its status. The procedure is as follows;
If you view "khurooj nihai – خروج نہائی" in front of "حالة العامل" that means the final exit visa has been stamped and you can leave Saudi Arabia now.
The Validity of Khurooj Nihai – Final Exit
The final exit visa is valid for 60 days from the date of issuance. The applicant must leave the kingdom within that time to avoid any legal consequences and penalties.
Further, After the issuance of khurooj nihai, it doesn't matter if the applicant has a valid or expired iqama. In both cases, the resident can stay until the final exit expires.
We also have a detailed post about visa issuance for dependants that you may like to read.
How To Get Final Exit Visa Paper
You don't need the final exit visa paper because it shows in the Saudi authorities system. However, you may need it in case return to Saudi Arabia on a new visa.
You can ask the sponsor or HR of your company to give you a print of khurooj nihai . Make a copy or take a picture and save it on your mobile.
Frequently Asked Questions
Can the sponsor file an escape report – Huroob after the final exit visa is issued?
After the issuance of the khurooj nihai, the sponsor can't report huroob but cancel the visa.
How the sponsor can cancel the final exit visa
ln case of cancellation of the final exit visa after stamping, the sponsor can make a request through his Absher by paying the cancellation fee of 1000 Saudi Riyals.
Also Read: