you can check visa validity and Eserve Exit Re-entry visa on Muqeem KSA online portal as well as on the Absher platform.
To use the Muqeem portal, you need Iqama number and Date of Birth. In addition to that, you can also use Passport number, Name and iqama expiry date as well.
Muqeem portal also displays exit re-entry visa duration. Furthermore, You can also check multiple exit re-entry visa validity.
Check Exit Re-Entry Visa Validity Using Muqeem Eserve KSA
To check visa validity, visit Eserve Muqeem online portal. Select the English language, and do the following procedure.
In the 'Check Using' field, click on iqama number
Enter Iqama number in the Iqama number Field
Now Select 'Name' in the 'Cross Match by' drop-down menu.
Enter your complete name as written on iqama
Click on 'Check'
The Muqeem portal will show you visa validity on the next display.
In the below image, you can see visa validity status. You can also find the visa duration and return date on the visa form/paper.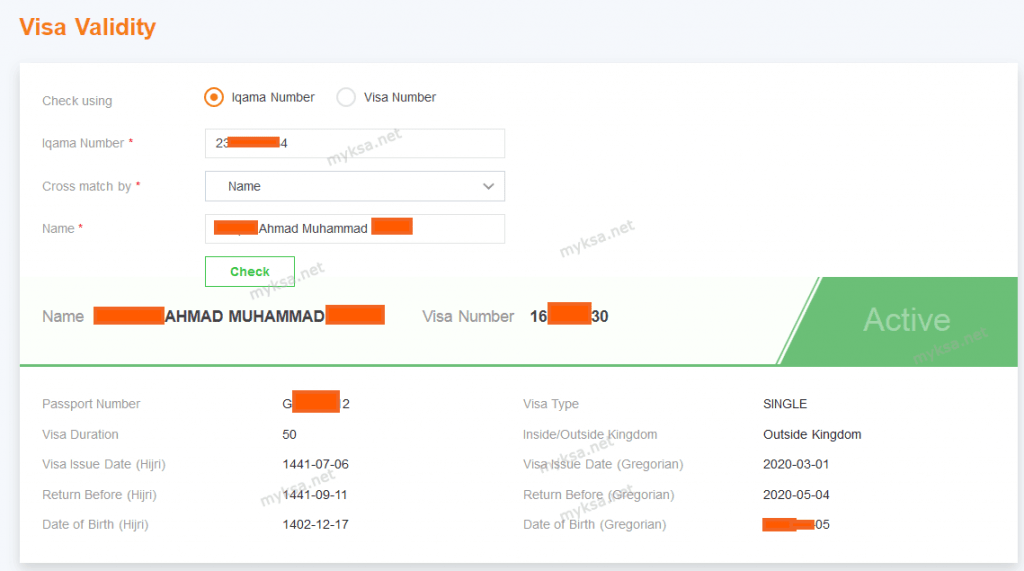 In case, if any information is wrong or incomplete, the portal shows the message " No Visa Matching the Input"
However, there is a possibility that your exit re-entry is still under process. in that case, you will see the visa status as "Invalid Visa Number Or Visa Not Valid".
Also, you may see the visa status as " Visa Is Expired", which means that the new one is not processed yet.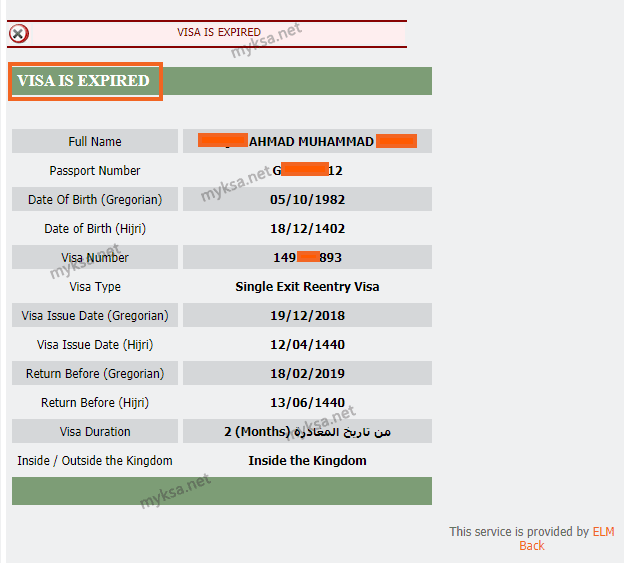 For Expatriates who are outside the Kingdom, and whose exit re-entry visa has expired or is going to expire soon. They will have to wait until the sponsor renews their visas. It is also not possible to return to KSA without a valid entry permit.
How To Check Exit Re-Entry Visa Status In Moi Absher KSA
You can also check Eserve (Exit Re-entry) visa validity online by using the Moi Absher web portal in Saudi Arabia. To check visa validity, you need Iqama number, Sponsor Id, and Passport number. To start the procedure,
Log in to Absher Account by entering your username and password.
Click on 'Inquiries' under the 'My Services' tab.
Now click on the 'Passport' and then click on 'Exit/Entry Visa Status'
Now Enter Iqama number
In the next field enter Sponsor ID, also known as Kafeel ID.
Now enter the Image Code
Enter the Passport Number.
The Moi Absher online system will show you the exit re-entry visa validity status on the next screen.
Check Visa Validity Status On MOFA ( Ministry Of Foreign Affairs)
If you have applied for a visit visa or Istiqdam ( permanent family visa), then you can check your visa status using the MOFA portal. You can also search for umrah and hajj visa status. We have a dedicated post on applying for a family visit visa in Saudi Arabia. You can find comprehensive details in the article.
Cancel Exit Re-Entry Visa
Absher portal gives the facility to cancel exit re-entry visas for dependents. However, if you want the cancellation for yourself, then ask your sponsor ( kafeel, company) to cancel the visa. By using the muqeem service, you kafeel will cancel the visa quite easily.
However, as per the government rules and regulations, you can ask for cancellation, but can't get a refund for the paid fee.
Exit Re-entry Visa Fee
The fees depend upon the duration of the visa. For a 2-month duration visa, the fee is 200 Saudi Riyals.
For a 3 months duration, the cost is 300 riyals. If you are planning a vacation of 4 months, then the charges will be 400 riyals. The fee for a 5 and 6 months exit re-entry visa is 500 and 600 riyals, respectively.
The maximum duration of the exit re-entry visa is 6 months. Therefore you have to return to KSA within 180 days in any case.
Print The Exit Re-Entry Visa
Although now, you don't need a print of the visa because the authorities check visa status online nowadays. However, if you want a hard copy, then take a screenshot of the Eserve page. For dependents, you can print it in Absher. There is an option to save or print it.
For working residents, the sponsor will provide a copy of the visa. Just attach it with the passport. You may need it at the airport in your native country to verify the details. The authorities may also check it at the time of departure from your country.
Frequently Asked Questions
What is Visa Validity
Visa validity is the time period between the issuance and expiry of the visa. The validity is shown in terms of days. Like 30, 60, 90 days, and so on. During the given dates, you can stay in the respective country legally. The visa can be a single or multiple exit re-entries.
In Saudi Arabia, you can apply for a maximum of12 months multiple exit re-entry visa.
How Can I Check My Saudi Visa Status Online?
To check the stamping visa status, you can follow this method. Visit Enjazit website. On the main page, scroll down and search for the "Query" section. Select Applied Application in the Searching For box and enter the application number.
Enter passport number and captcha and hit Search. You can use this method for a work visa, and family visit visa as well. You can also use it for permanent family visa status.
What happens if my visa expires?
First of all, renew the visa before it expires. But if it happens, ask your sponsor (company or kafeel) to renew it. The company will put an online request for renewal of exit re entry visa. In a couple of days, it will be renewed. However, it can be risky. Traveling back before its expiry is the best option.
How do I know when my visa expires?
If you have a hard copy, you can see the visa expiry date. Otherwise, open muqeem, follow the procedure and check the visa expiry date. You can also know about it in Absher portal. We have discussed both methods in this post in detail.
Also Read: