You can always check your STC mobile number or data sim number, whether you bought a new sim or forgot the existing number, with these 9 methods.
By Dialing STC mobile number check code.
By Sending a USSD code in an SMS to 900
By Sending a "Please Call Me" SMS to a friend.
Using the CITC web portal
By Calling STC helpline.
By Making a Call
Visit Nearest STC Sales And Service Center
Look at the Contract Form for Postpaid or Data sim number
Check STC number on the Sim Card Jacket
The above methods work well on voice, data, and internet sims, Quicknet sims, and E-sims to check STC number for both prepaid and postpaid customers.
You can also find the methods to check STC landline number and STC Bahrain number in this article.
1- Dial STC Mobile Number Check Code
The first method is quite simple. You just need to dial STC mobile number check code on your mobile. Open the dial pad and write
*150# and press dial
The STC sim number will pop out on the screen immediately.
Pretty easy! let's move on to the following method.
2- Send A USSD Code to 900
In this method, you can send a code in SMS to the service number "900".
In the SMS app, Type 9988
And send it to 900
you will receive a message with the information about your STC sim number.
3- Send a "Please Call Me" Message to a Friend
You can also use " Please Call Me", a free message service, in case you are out of balance. To send the message;
Dial the USSD code *177*05XXXXXXXX#
The recipient will receive the message along with your STC mobile number.
You can send "Please Call Me" message up to 10 times a day.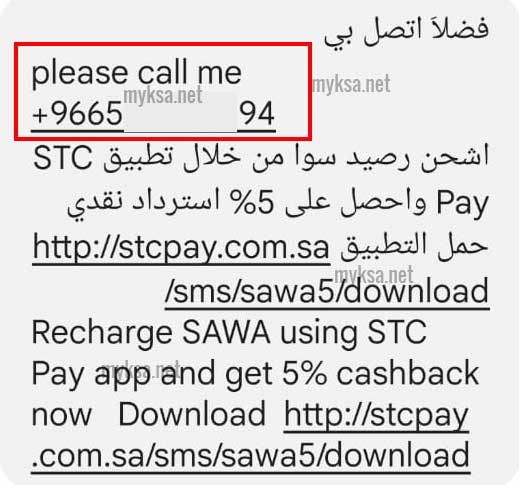 4- Check STC Number By Using CITC Portal
This portal is pretty handy if you lost the STC sim and didn't remember the mobile number. In that case, visit CITC Portal Saudi Arabia and register to get the information about the sim card.
Furthermore, you can also download the CST app on your mobile. Whenever you open the app, you can find your number on the screen.
5- Call The HelpLine
Calling the helpline is a very common method to know your STC number. Dial the helpline and talk to the customer representative. Tell him that you want to know your STC number.
To call the helpline, dial 900 from any STC number and do the following procedure,
Dial 900 from STC sim to call the helpline
Now press 1 for the services
Press 9 for Complaints and Technical Support
Now press 2 for the Complaints menu
Press 6 to talk to the customer care representative at the helpline.
However, make sure the STC number is registered under your iqama. The helpline may not provide the required information if you are not the owner.
6-Visit Nearest Sales And Service Center.
Another way to check Sawa/STC Sim number is by visiting STC franchise ( sales center). Bring your iqama or digital iqama there. Because with the help of the resident id, they will inform you about the mobile numbers you currently own.
7-Make A Call
If you have some balance in your STC sim, call your friends. Your STC sim number will pop out on their screens. Ask them and save it on your phone for future use.
This method works best for calling sim. However, sometimes you can also call from a data sim if they have some balance.
I have seen this trick working for internet sims many times.
8-Know Your STC Number On The Contract Form.
When you buy a data sim or a postpaid sim from the sales office, STC asks you to sign a contract form. You can find the sim number on it as well.
9-Search On The Sim Card Jacket
Every sim comes with a Sim card jacket. If you observe it closely then you can find a few details like Sim serial number, Pin number, PUK Code, and mobile number.
Similarly, on the sim card jacket of the Sawa / STC sim, you can check STC number quite easily.
how to check sTC landline number
There are a couple of ways to check STC landline number. The easiest way is to call the STC helpline. The landline customers will call at 905. Talk to the customer representative and ask him about your landline number.
After a brief verification process, he will provide you with the number.
The second method is to call any other number from your landline. The number will display on the other phone's screen. write it down and save it.
Furthermore, by calling the helpline, you can also ask about the latest offers and packages as well as check STC bill within no time.
In addition to that, you can also call the helpline 0114555555 from your landline.
how to check sTC sim number in Bahrain
STC also operates in the Kingdom of Bahrain but here it is known as VIVA. To know about your STC sim number in Bahrain do the following procedure.
Dial *1# on your phone
The sim number will display on your mobile screen in a couple of seconds.
2nd Method
You can also call the STC Bahrain helpline. Just pick up your phone and dial 124 or +973 33 124124 and talk to the STC representative to know about your mobile number.
Also Read: