STC is one of the most used cellular networks in Saudi Arabia, providing calling and internet data sims. Because most users buy sims activated with limited calling and data plans.
Therefore, it becomes vital to check STC balance for calling and data sim frequently. There are plenty of methods to check the remaining balance.
How To Check STC Balance For A Calling Sim
There are two types of calling sims,
To check STC balance for any of the above types, there are several methods as listed below.
Check STC Balance Using a Code
To check STC Sawa sim balance, the code is *166#. To use the code, do the following;
Write "*166#" on your phone's dial pad
Now press the Call button.
The STC system will fetch the details and a pop-out message will appear on the screen containing the sim balance information, as well as its expiration date.
Check STC Balance By SMS
To check the balance on your STC sim, simply send a code in the SMS from your mobile phone.
Open the SMS app on your mobile
Type "166" without quotation marks
Send the code to 900
Within a minute, you can view your remaining balance in the SMS received from STC.
Check Sawa Packages Balance
Sawa offers plenty of packages for a calling sim. These offers are quite handy, as they are affordable and come with some economical voice and data bundles.
The most commonly used packages are,
Sawa 30
Sawa 65 offer
Sawa flex (90)
Sawa share (110),
Sawa post
Sawa Star offers.
To check the remaining balance or data for these offers,
write '8000' in the message
Send it to 900
In a few minutes, you will receive the remaining balance details.
How To Check STC Data Balance
To check STC data balance and remaining internet data, You can Use MySTC app, Visit STC web portal, send stc mb check code to the balance service number, dial a specific USSD code or, call the helpline.
STC Data balance check By code
If you have bought a Quicknet STC prepaid data sim, then you can find the remaining data by using a code.
To check STC internet data balance,
Dial *888*5#
The remaining data will be displayed on your mobile screen.
The above code can also be used to check voice or internet data balance subscribed by accessing "My Sawa Offers"
Check STC Data Balance By SMS
To check Sawa internet balance through SMS, use the STC MB check code in this way;
Open the messaging app
Create new message
Write "2220" in the message
Send the message to 900
An SMS containing details about the remaining usable MBs in your STC/Sawa sim will arrive shortly on your mobile.
MySTC App
The 3rd method to check sawa or STC data balance is by using the MySTC App. The app enables you to get all the details whether it is data balance, Qitaf points, or any other add-on you have.
Install it on your mobile and register using your mobile number. The data sims also have a specific number. Use it to log in to the app. To download MySTC, you can use the links given below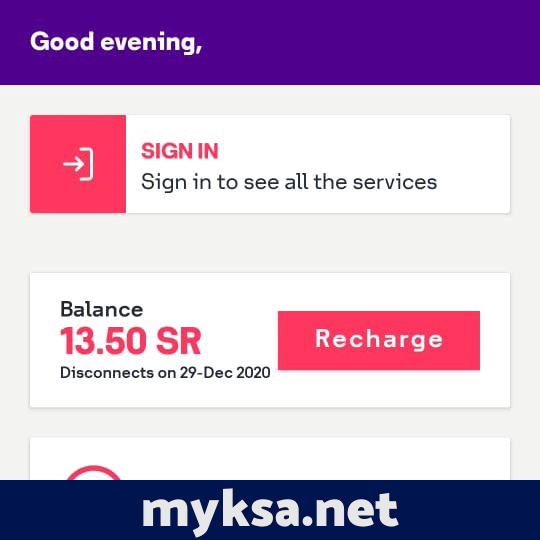 In the next method, you can use STC Gate, a portal to manage the sawa sims cards. You can also check sawa internet balance by using it. Anyhow you will need to register first.
Another method is by calling the helpline of sawa. Dial 1500 and get the information about the remaining data balance.
Check STC Postpaid Internet Balance
STC postpaid sims are called 'Mofawtar.' These are also known as Quicknet sims if these are Data-only SIMs.
To check STC postpaid internet balance, the best option is to install the My STC app. In the app, you will find plenty of other options and details.
You can also check the remaining data by dialing *166#
The other method is by calling helpline 1500, and you will know about the balance.
Check Sawa Data Balance By Visiting STC Web Portal
You can also check Sawa data balance by visiting STC Website. To visit MYSTC click here
Click on 'Login to Specific Number'
Enter your Mobile number / Data Sim number and click on Next
Enter 6-digit OTP received on your mobile and click on Login.
The next screen shows all details like Qitaf points, Activated Packages, and Remaining Internet Data Balance
How To Check Sawa Qitaf Balance.
Qitaf is a reward program offered by sawa. You get 1 point on each recharge of 10 riyals. So it means that by recharging 15 riyals, you will get 1.5 qitaf points. Furthermore, you can use the points to purchase the data or balance voucher.
You can also use the qitaf points for booking tickets, purchasing at the souq, and using in Careem services.
To check Qitaf balance, the best way is by installing the MySTC app. The app shows the points how much you have earned till today.
Otherwise, call the helpline 1500 and ask them about the qitaf points you have earned. They will provide you with the details.
How To Check STC Data Offer?
STC gives lots of data offers to its Saudi customers and, you can easily know about them. To check STC data offer available on your sim, simply dial the code *888# and press the call button.
The network shows all available data and call offers on your mobile screen within a few seconds.
After that, you can subscribe to any offer by following the on-screen instructions.
In addition to that, if you are not willing to use any offer, plan, or package, STC gives its users the freedom to cancel subscriptions anytime.
Read More: How To cancel STC subscriptions – deactivate services
Also Read: