Mobily provides a ton of internet data and calling offers to its customers and there are many ways to check them frequently.
The simplest and fastest way is dialing a USSD code not requiring you to have internet or download any app. You can also use the Mobily app or visit Mobily's official website to see all the latest offers.
Effortlessly check all the latest Mobily offers by following the steps of any of the methods listed below.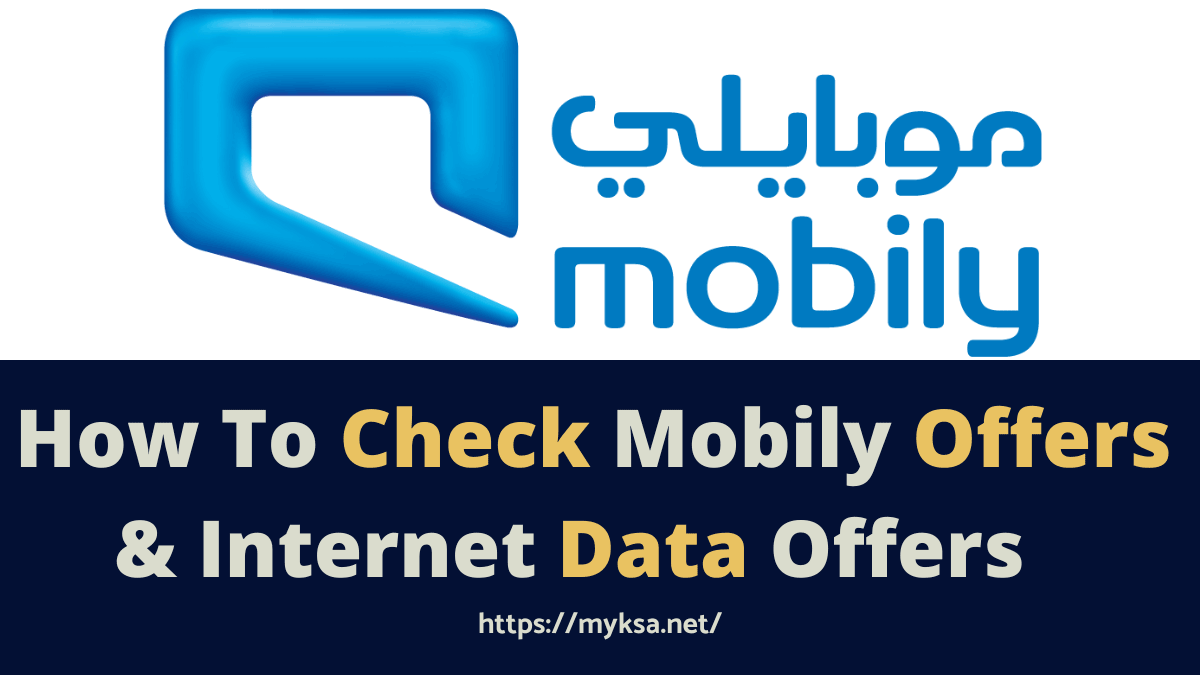 Method 1: Check Mobily Internet Data offers via SMS
To check Mobily Internet data offers with their activation codes:
Open the messages app
Compose a new SMS
Type 'Net' and send it to 1100
In approximately 2-5 minutes you will receive an SMS from Mobily with the latest available internet data offers
Method 2: Check Mobily Sim Data Packages by dialing a code
To see and activate an internet data package, follow the steps below:
In the calling app, dial *1100# and click on the call button
An interface of Mobily Menu will appear on your screen
Type '2' for Mobily Services
Click on 'Send'
A new interface will appear, type 2 for data services, and send it
Next, type 1 for Data bundles
Lastly, an interface consisting of all the available data packages will appear on your screen
Type the number of the package which meets your requirements and click on send
Finally, confirm the charges of your data bundle
You have successfully activated your Mobily Internet data offer
Method 3: Checking Mobily minutes and call offers by dialing a code
You can also check Mobily calling minutes and other calling offers by an almost identical method to the above one;
Dial *1100#
Click on the call button
From the Mobily Menu type '2' and click send for calling minutes, voice calls, and other data offers.
Type '0' and 'send' in case you made an error
Type '99' and 'send' to go back to the Main Menu
Method 4: Check Mobily Offers Via the Mobily App
This method does not require you to remember a USSD code and does not involve an SMS method.
However, it is necessary to have internet data on your SIM to successfully follow the steps to avail of the Mobily calling and internet data packages.
Open the Play Store on your phone for Android users
Go to your App store if you are an iOS user
Download the official Mobily app on your phone
Log in by entering your username and password
You can also click on 'Quick access' and verify your mobile number
Go to 'Dashboard'
Now according to your requirement, click on 'add' in front of 'minutes' or 'balance' from the tools
To check data packages, press on '+ buy Internet'
You will now be shown a list of internet bundles, subscribe to the one that works for you.
Method 5: By Calling the Mobily Customer Service
If the other methods do not seem to work, you can opt for calling Mobily Customer Service to check the latest Mobily Internet Data packages or calling offers.
If an error seems to appear when subscribing to a data package, you can complain about the issue to Mobily customer service.
To reach the Mobily call center, call on the number:
Calling from a Mobily Network: 1100
Calling from other networks: 0560101100
Method 6: Inquiring about Mobily data Offers- packages by filling out the Mobily Contact form
To inquire about data packages, go to the Mobily Portal
Fill the necessary boxes that have a '*' next to them
For Inquiry type select 'other/inquiry' from the drop-down list
If you are facing some issue when subscribing to the Mobily package, for 'inquiry type' select 'complaint' and attach screenshots of the error that seems to appear.
Check the 'I'm not a robot' box and click on send.
Method 7: By visiting the Mobily Outlet
You can also visit your nearest Mobily shop to inquire about the latest Mobily Internet data and calling offers. Finding the nearest Mobily shop to you has been made very easy.
Visit the Mobily Store Locator
Select your city from the drop-down list
Select your District
The nearest Mobily store to you will be shown on the map below
Method 8: From the Mobily Website
One of the easiest ways to check the Mobily postpaid and prepaid mobile and data plans is through the official Mobily Website.
Visit the Mobily website
Scroll down and click on 'see plans' below either 'Mobile Plans' or 'Data Plans'
Select either 'data prepaid plans' or 'data postpaid plans'
On the next page, you will be shown the data plans with their prices
Subscribe to the plan which is fitting for you
You can also visit The Mobily Recharge Vouchers Portal
From the top of your screen, click on 'home'
Select 'Mobile'
Now you can check data bundles, plans, family packages, etc
Method 9: Mobily Deal of the Day
Mobily offers new deals to its customers every day and availing of these daily deals is incredibly easy and beneficial. To reap benefits from these offers, you need to be a prepaid or a postpaid customer.
There are 2 ways to see the deals of the day:
On the dialing pad of your phone, dial *6060#
Or call 1100 and press 1
What is the code of the Mobily internet pack?
The code to check Mobily Internet packs is '1100'
Type 'Net' and send it to 1100
We hope that by following these methods you were able to check Mobily offers and packages.
Also Read: