Are you worried about the hidden subscriptions and packages deducting STC sim balance? And you don't know about the cancellation procedure?
No worries, You can cancel STC subscriptions, deactivate STC services, Unsubscribe Packages, and Stop Content charges by using any of the method as listed below.
MySTC App,
Calling at helpline; 900
Send a deactivation code in SMS.
These methods work on all services or packages; an internet package, an SMS service, or a calling minutes subscription. Let's explore these methods one by one. And, decide for yourself which one you are going to choose.
how to check active services and Subscriptions in STC
Before, you deactivate or cancel STC subscriptions or services, either an unknown STC internet package or a calling offer.
You must know about all the activated services. Once we determine the subscriptions consuming the balance, you can cancel them easily.
Read More: Latest Procedure To Cancel Sawa STC Sims Registered On Iqama
Send A Deactivation Code Through SMS
To check the active services, packages and subscriptions, send a blank SMS to 800444. The replying message shows all the activated offers on the sim.
But wait, you can notice more than that. The SMS is showing the un-subscription code to cancel STC packages and services also. (See the image below.)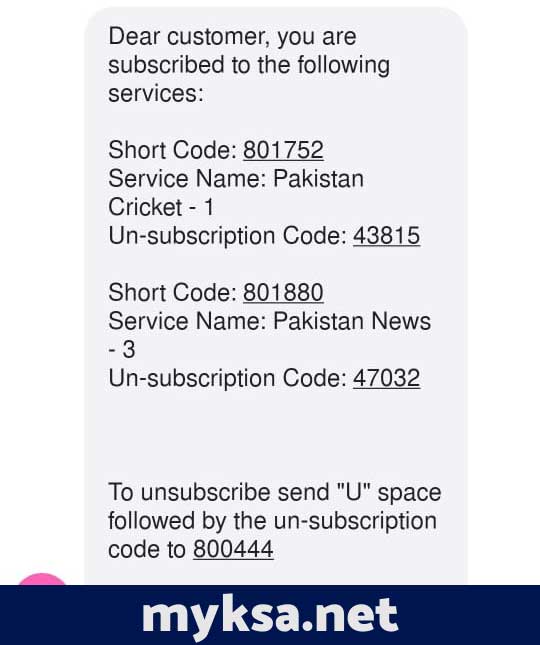 You can see that the above STC number has 2 subscriptions, Pakistan Cricket and Pakistan news. Let's deactivate the Pakistan News service. To cancel it,
how to cancel sTC subscriptions
In the message, write U (space) Unsubscription code and send it to 800444
Example: U 47032
Send to 800444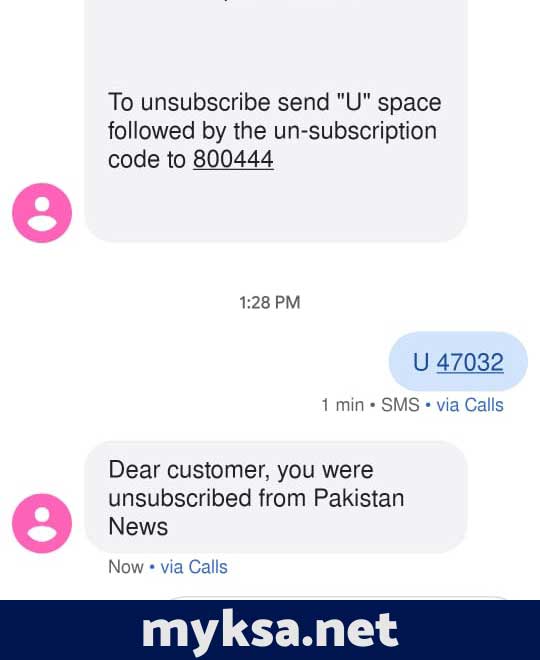 The selected service will deactivate after a few minutes. And, you will receive a confirmation message also. Select each service and follow the above procedure until you are done.
Use MySTC App To Cancel, Deactivate STC Packages and Services
STC provides an un-subscription service in its MySTC app. It shows all services and internet data packages active on your sim.
As no need to send a message and deactivate packages one by one. First, do register in MySTC app. If you have 2 STC sims then, before deactivating any service or subscription check the STC sim number.
Now, After successful registration on the app,
Open MySTC app
On the main screen, tap on 'Manage'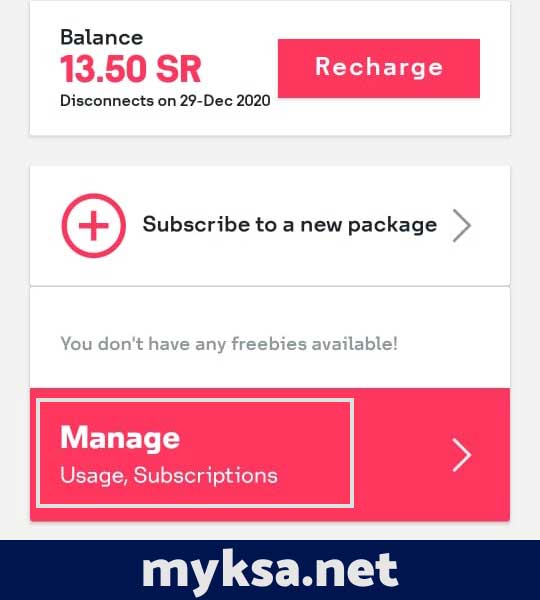 Now tap on Subscriptions
On the Subscription page, you will find all your services.
In the image below, 2 services are active; Sawa friends and Family and Pakistan Cricket.
To cancel Pakistan Cricket under Content Service, tap on it
Now tap on Unsubscribe. A new message pops out for confirmation. Tap on Confirm to cancel the service.
Thus you can stop STC automatic balance deduction by using MySTC App.
Call The Helpline
Another way to cancel and deactivate STC services and subscriptions is by calling the helpline. You can do it by
Call at 900
Select 1 to get help for the sim you are calling from
Again select 1 for packages and services
To cancel services, choose 3
Select 1 to cancel the service.
Also Read: