MOI Absher Portal, offers an online service to check iqama expiry date or validity. Basically, Iqama is the resident id of Saudi Arabia, expires after a year of its issuance date. After that, it needs renewal. As per the new system, Jawazat doesn't print the expiration date on the card.
So to avoid penalties and fine on iqama, it is important that you know the exact date its validity ends. You will need iqama number and an Absher account to query it. Let's start the procedure to find the iqama expiry status.
Check Iqama Expiry Date By Iqama Number (Iqama Validity) Method-1
We are going to discuss 4 different methods to find iqama expiry date. And, here is the first method.
Step1. Go to the Absher website and tap on "Individuals."
Step 2. If you are not familiar with Arabic, then Select "English" located on the top left corner. Enter the username or Iqama number, password, and image code.
Step 3. You will receive a 4-digit verification code on your mobile, enter it
Step 4. Upon successful verification,  Scroll Down. You will find the option, Query Iqama Expiry Service. Tap/click on it.
Final Step. Enter the iqama number and image code then click/ tap on View
You will find the iqama expiry date. If the date is in green, it means that your iqama/Resident ID is valid, active, and not expired.
The red color of the iqama validity date means that Saudi iqama is expired and needs renewal as soon as possible. Also, moi Jawazat charges fines and penalties on the late renewal. Therefore, to avoid penalties, it is better to renew it before the expiry date.
.
Read More About: Check Iqama Fees paid or not paid
The info graphic will help you to understand the procedure.
Iqama Expiry Checking By Absher App. Method-2 
You can also check iqama expiry date and validity by using the Absher app. One of the benefit using the app, you can find the date in english Calendar dates. That's why, it is a unique and new method. To do so,
Step-1  Download and Log in to Absher App by entering the credentials ( Username-Password-OTP )
Step-2 Once you log in successfully, Go to "DASHBOARD" and tap on "Timeline" tab
Step-3  Timeline has plenty of details. It shows validity dates of iqama, passport and driving license. You will see the very first tab, "ME & FAMILY." Under this tab, the very first information is about iqama expiry. You can also switch between Gregorian ( English) and Hijri dates by tapping on the relevant tab.
Although, it is a little bit tricky to convert Hijri dates to Gregorian dates. However, Absher App has provided the said service. Besides, this is the only method that shows iqama status in the Gregorian dates.
You may find problems while accessing the Absher portal from outside KSA. If you have experienced it, then ask a friend or family member residing inside Saudi Arab to help you. Another option to access the portal is using VPN. But keep in mind that use of VPN is illegal in the kingdom.
Iqama Validity Check Using A Bank Account | Method-3 
You can also know about the iqama validity using your bank account. This method is also quite easy and provides the expiry date in Gregorian and Hijri Dates.
For the procedure, you should have a bank account. By going into Settings, you can see it. For more details please click on the link below.
A Must Read: Check Iqama Expiry Date Without Absher Account
We are providing a brief view here. If you have Quickpay account or Tahweel al rajhi, you can also do iqama check online by the given method.
Login to the bank account by providing a user name and password.
After successful login, click on the 'Settings', located Under Home Section on the left.
On The 'Setting' page, Click on 'ID Expiry Update', the very first option.
The next window will show you iqama expiry date in Hijri calendar as well as in Gregorian/English Date.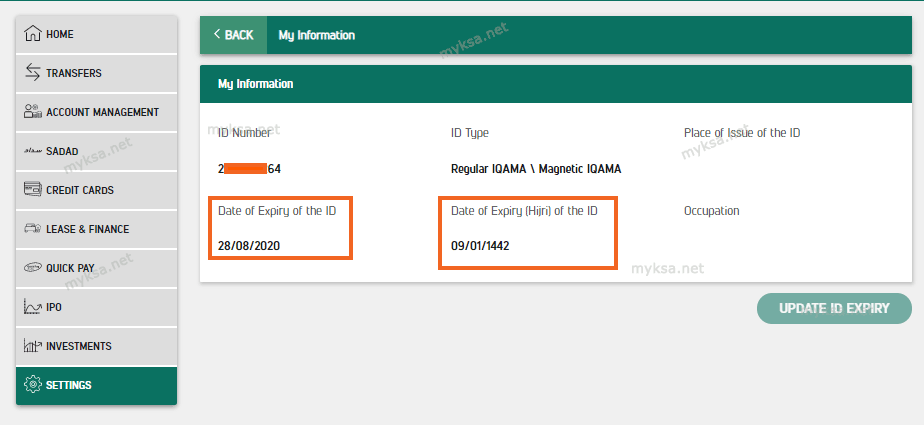 Iqama Expiry Checking With MOL KSA Portal Method-4
In this method, by using the portal of mol ksa ( ministry of labor Saudi Arab), you can check iqama for expiry date easily. This method does not require an Absher account. Furthermore, it displays the date in both, Hijri and Gregorian formats. The procedure is as follows,
Open ministry of labor portal using the given link. MOL KSA Portal
Now Enter your full name as written on iqama and the date of birth. Then, enter 6-digit captcha code and click on 'Next'
The new window will show your complete details including the iqama expiry date in English and Hijri dates.
However, this method might work only once because these are the initial steps to register on mol ksa portal. Furthermore, it doesn't work if you are outside the Saudi Arab. The reason is that portal doesn't work from any other country except within the Kingdom.
Penalties And Fines On Iqama Expiry
There are lots of fines and penalties on iqama if its validity ends. We have a dedicated article on this topic.If we summarise then, one of the main fine and penalty is on its renewal after expiry.
Jawazat charges a fine of 500 riyals. Next year the penalty increase to 1000 riyals on the repetition of the same violation. But the third consecutive violation will result in a garama( grama or gharama) as a final exit. Jawazat will not renew iqama.
A Must Read: Latest 11 Fines On Iqama That You Must Know in Saudi Arabia
Also, if your sponsor doesn't renew iqama before 3 days of its expiry, then he will have to pay a double fee as a penalty.
Check Iqama Insurance Expiry
Iqama insurance is, in fact, medical insurance. It doesn't expire with iqama. You can use it until it expires. Besides, there are three types of health insurance; Category A, B and C. It is essential for an expat to obtain health facilities in Saudi Arabia. However, You can check its expiry and details on the health portal of the Saudi Health Ministry.
Furthermore, You can find all the details in this article. The link is below
Get The Hands-On Health Insurance: Know About the Expiry Date Of Health Insurance In Saudi Arabia.
Muqeem Portal
Another portal that can check iqama expiry or validity date is Muqeem. However, only sponsors (Companies and Kafeels) can use and check iqama status in it. It's not a free portal. The service has annual charges for the usage, and the companies, accessing it, pay the fee. For an expat, the Absher portal does the job.
Check Iqama Status Red Green Yellow
A reason for iqama expiry is the red category in nitaqat. It is also known as iqama status ( red, green, yellow). It shows the categories in which the sponsor falls. Any company in red can't renew iqama of its employees. The employees will have to wait untill the status gets back to green. On the other hand the employe can change the company by submitting an application in Jawazat.
Read The Article: Nitaqat Status For Iqama That Everyone Must Know
The service is not available in English until now. But you can use a translator to help you.
Check The Sponsor Id And Kafeel Name
Visit the Absher website.
Enter Username, Password, and then OTP.
Once you Log In, tap on My Account and then, tap on Dashboard.
A Complete Article On 5 Ways To Check Kafeel Name And ID
On the next window, scroll down and tap on More Details.
On the next Screen, Scroll down until you find Sponsor ID.
Frequently Asked Questions.
How Long Does it Take to Renew Iqama?
1 Day! Yes, that's true. Renewal of iqama takes only one day. Jawazat issues iqama within a day, If the company/kafeel fulfils the requirements for iqama renewal. There is no delay from Jawazat.
How many years does the Iqama Expiry?
You can check the validity of iqama by the above methods. Mostly iqama expiry is for one year. However, the iqama card (ID) is issued for five years. May it sound confusing? When iqama is released. The expiry date is five years for the Iqama card. After five years, Jawazat issues a new iqama card (id).
Can Iqama be renewed for two years?
The answer is YES. Iqama can be renewed for two years. However, it depends upon a few factors. Like the status of the company in Nitaqat, the agreement between you and the company. Etc.
Can we renew iqama for six months?
Iqama is renewed for a year. However, if you want to stay for six months, you can. But you will have more six months to live in Saudi Arabia.
Can I go exit with an expired iqama?
Yes, you can exit with an expired iqama. There is no issue at all. Kafeel/ Company can arrange a final exit visa for you.
How to Check if the Iqama is renewed?.
As per the new system, As soon as your iqama renew, you will receive a message on your mobile number registered with Absher. However, before you could receive an SMS, make sure that you register and activate Absher account.
How to check if Iqama is valid?
The above two methods in this article explain the procedure to check if iqama is valid or not. Use any of them to know the status. Also, if you want to know without login to Absher portal, you can still know by asking a friend to help you. The method for iqama inquiry is simple and takes 5 minutes only.
The other methods to check iqama are provided in the above post. If you find a new expiration date with a green background, then it means that your iqama is renewed.
Was this article helpful to you? Give us your opinion by commenting below. If you have any questions or queries, then please ask us. We will try our best to help you as much as we can.
You may also like to know: Make an Absher Online Account.
Similar Posts: