You can check border number in Saudi Arabia in 2 ways;
Using "Query Border Number" service available on the Absher web Portal
On Your Passport
Before we start, let's take a look what a Border number is
What is Border Number
Upon arriving in Saudi Arabia on a new visa, the Saudi immigration authorities issue a 10-digit entry code to the passport holders. Which helps in identifying the visitors/workers while residing in KSA. This code is the border number or رقم الحدود.
How To Check Border Number
By visiting the Absher platform, you can check border number online. You need two things that are available on the Saudi Visa, imprinted on your passport.
Visa Number
Visa Issue Date
Procedure
Visit Absher Online Portal
Select "Query Border Number" from Public Services menu on the home page
Click on Non-GCC Citizens (Citizens of Arab Countries will click on GCC Citizens)
Enter Visa Number
Select "Gregorian" and enter Visa issue date
Enter image code and click on inquire.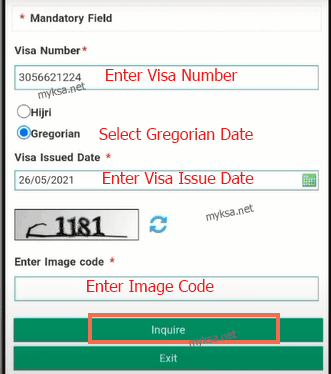 You can check border number on the next screen.
Query Border Number on The passport
The Saudi immigration authorities write the border number by hand on the passport. Just look at the entry stamp page as shown below.
Where You Can Use It
While living in Saudi Arabia you may need رقم الحدود for many services which can be.
To Check medical report for iqama
For getting hajj permission on a visit visa
To pay visit visa extension fee
To check if iqama is issued or not
For getting the insurance for Family visit visa
To pay dependent fee for new born baby
For the Latest Guides, News, and Updates, Like and Follow us on Facebook, Twitter, and Pinterest.
Similar Posts: