Generalization Report Query is a service on Absher that helps a resident worker to check if a case is registered on iqama because a Government agency reported MOI-Jawazat to ban him from traveling outside Saudi Arabia.
An expat can't leave KSA if he has committed a criminal activity or is involved in a dispute until the issue is resolved and allowed to travel anywhere.
Furthermore, there are many cases when the sponsors have disputes with their employees that can result in absence from work status along with a generalization report.
Check Generalizaion Report On Absher
Visit the moi platform Absher https://absher.sa/
Click on Individuals and enter username and password.
Click on "Service Suspension and Travel Restrictions" on the main page
Generalization Report Query service will initiate, now click on "Proceed"
You can view the travel ban and the report status on the screen.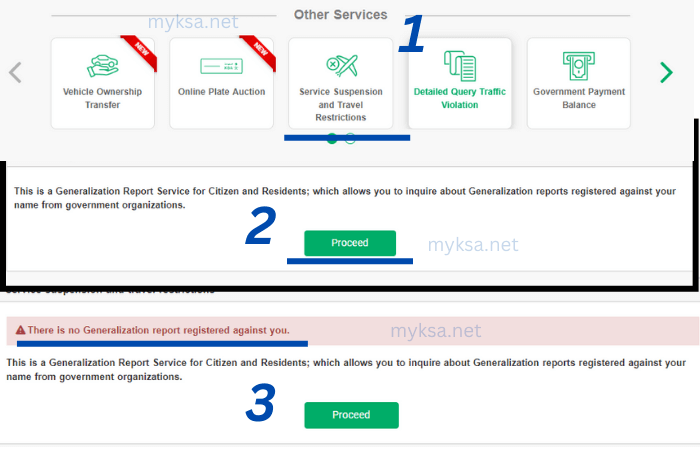 You will see the following message if there is no case or travel ban "There is no Generalizaion report registered against you"
But if there is a generalization report against your iqama number, no need to panic or worry because it can be a technical error. Just visit the nearest police station or Jawazat office along with your company's representative (Mandoob) and query the reason why you have been put on the travel restriction.
Furthermore, the police arrest the offensives as soon as the report registers for criminal activity. However, there can be some other types of disputes you are involved in, that come under the jurisdiction of Saudi courts.
In such a scenario, you will have to check the status on the Ministry of Justice website.
Also Read: