Iqama funds are the fees deposited for the legal services. For example, to renew iqama, issuance of exit re-entry visa, renewing istimara or driving license, etc., you need to deposit a certain fund and balance under your iqama. By using the Absher portal, you can check iqama funds online. Besides, you can also check if the funds are used or not for the required service.
How To Check Available Funds On Iqama Online
You can query available funds by logging in to the Absher account. All the funds under iqama will show there. Here is the complete procedure.
Visit Absher Portal by clicking on the link.
After successful login, click on 'Public Query Available Funds.'
A new page will open, enter iqama number and image code as shown below. And click on 'View.'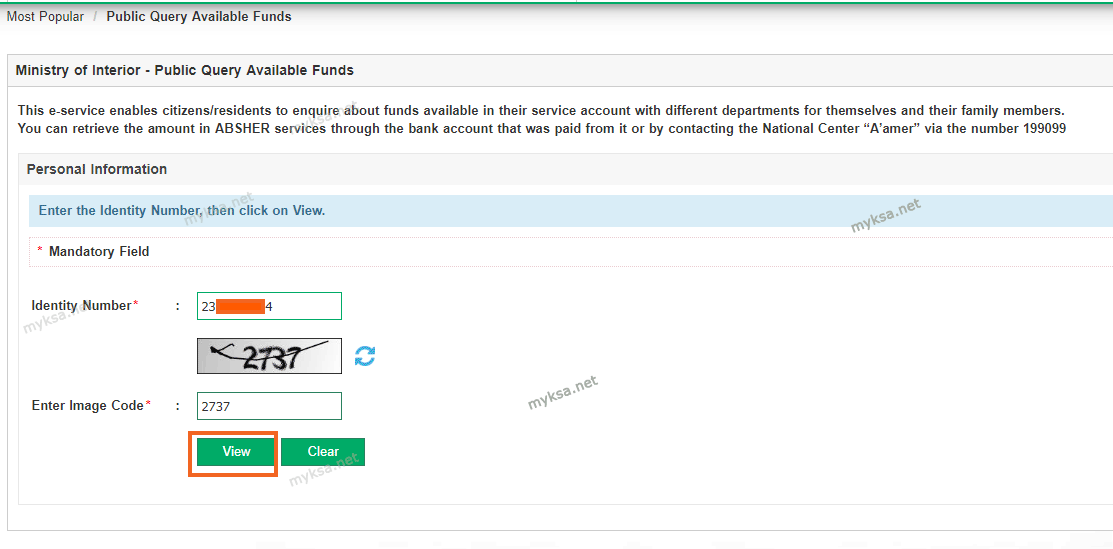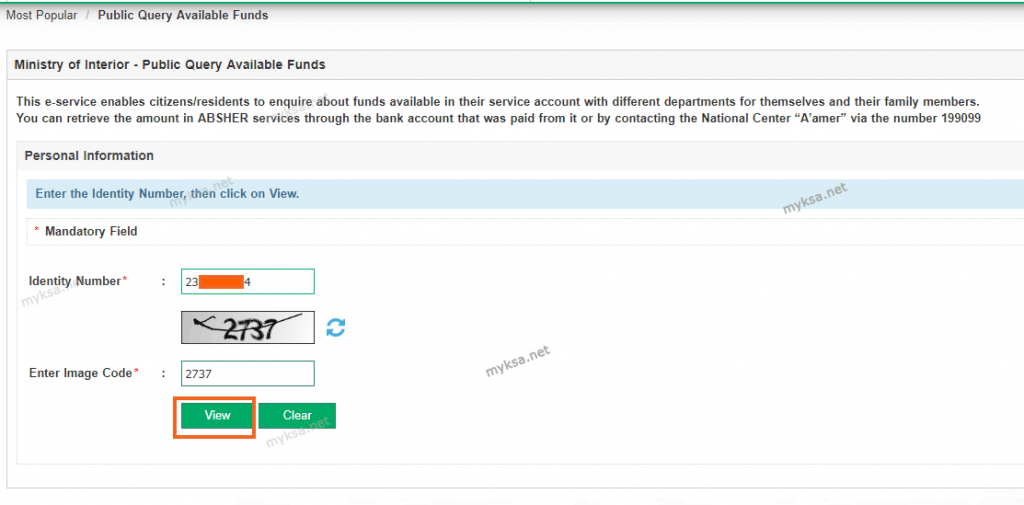 The next window will show you the details and status of all available funds on your iqama.
In the above image, you can observe that 200 riyals balance is showing in 'Passport Deposit.' It means that it will be used for the jawazat service. For example, jawazat may use it for the issuance of exit re-entry visa. With the issuance of the visa, the amount will be deducted. And you will find the balance as 0 riyals.
Iqama renewal fee shows in Labor Deposit. And the amount paid for any fine on iqama will also appear here. These labor funds are the last option on the list. Furthermore, any deposit against driving license shows in front of Driving License Deposit.
Sponsrees Deposit will show all funds and balances for the family members and dependants. You may also find that few funds are not showing. It is because of that it shows the amounts for specific services. For example, the maktab e amal fee will not show here. You can check it in the mol portal.
Moi Absher offers more than 160 services, which means that there are lots of government departments working together in one place. So few won't show any deposit here.
Checking Funds With Huroob Status On Iqama
Having a Huroob Status is the worst trouble in KSA. A person with that cant use bank account, medical insurance, and is not eligible for any legal assistance. So the same is the case with Absher. The portal won't show any funds under iqama. It will show a message similar to' You are not eligible for the required service.'
Funds Check With Expired Iqama
Iqama expiry is quite a different problem than huroob. Although the person is limited to use many services. Yet he/she can access the bank account and Absher portal. So checking funds is not a problem. In addition to that, it is the best way to find if the sponsor / Kafeel / Company has paid the iqama renewal fee or not.
Where To Use The Iqama Balance And Funds
If you have iqama balance in your Absher account, then you can use it for
Visit Visa Renewal
Transfer of Sponsorship (Naqal Kafala)
Change Of Profession
Renewal Of IQama
Payment Of  Single & Multiple Exit-Re/Entry Permit
You can also check iqama fees paid or not very easily. You may also like to query iqama expiry red green.Also Read: