You can refund money using Absher that you have deposited for a certain purpose. First, check the available funds, if the payment is present then make a request to refund the money using Absher web portal before it disappear.
Steps For Refund money using Abhser
First of all, you need to deposit funds or pay fees to avail the services offered by Absher. let's suppose you have deposited the funds for iqama renewal but for some reason you do not want it. Now you want your paid fee back, in order to do that visit Absher web portal https://absher.sa/
firstly, log in to your account.
On the dashboard, click on Public Query Available Funds.
After that In the personal information menu,

Enter identity number (Iqama Number)
Fill captcha code
Click on view

The next screen displays the available funds present in your Absher account.

If the fee is not displayed on the web portal, hence it means your transaction is done and your service is completed.

Make a request using Absher in addition to that use the same account as used for the initial deposit.
Refund money list on Absher
I am providing a list of some important available services furthermore, from which you refund your money. For Example,
Dependants
Sponsorees
Driving License
Vehicles
Traffic Violations
Labour Importation
Passports
Travel Records
Visit Visas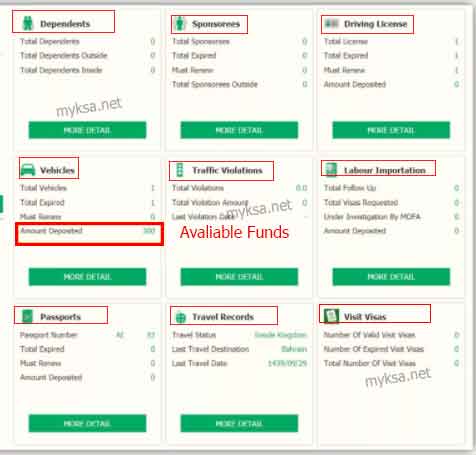 How to transfer funds in Ksa
In the first place, the Saudi ministry of interior made it possible for their citizens to refund the payments through the Absher web portal. To get these available funds back to your bank account, choose the bank which you use for the payment otherwise it will not be possible.
In Saudi Arabia list of some available internet banking are,
Al Rajhi
Al Ahli
SABB
Alumina
Saudi Francis
Riyadh Bank
Bank Albilad
Saudi Hollandi etc.
Steps to refund money using Banking application
However, this is the general procedure in Saudi Arabia for the withdrawal of money through Internet banking. follow the steps respectively,
Log in to your internet banking account online.
Select Government Payments in the Payments menu.
Then Click on Alien Control.
This time choose the appropriate Application type (Services) and confirm Trasanction Detail as Refund.
Afterward, Enter Iqama number.
Click on Confirm to Submit the request for a refund of money in KSA.
Now, it will take almost up to 3 working days for the refund of money into your bank account.
Also, Check Iqama Huroob Status Online.
For the Latest Guides, News, and Updates, Like and Follow us on Facebook, Twitter, and Pinterest.
Also Read: