Re-issuing a lost ictimara is a simple procedure in Saudi Arabia. You have to make a visit to the traffic police office, submit few documents. And, it's done. In this article, we are going to discuss the re-issuance for a lost or damaged ictimara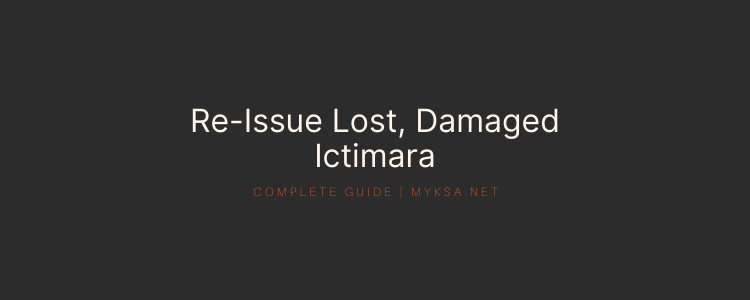 Re-Issue Lost Ictimara
First of all, let's have a look at what are the required documents.
Required Documents.
The very first requirement you need to fulfill, before visiting moroor, is the payment of the fee. After paying it, you are ready for the rest of the procedure.
Pay a Fee of 110 Riyals. Make sure to pay the fee before visiting moroor office.
Original Iqama
Fill the Form
2  photographs (4*6) cm size
Provide the damaged license in case of replacement.
The vehicle owner must visit moroor office.
Most Read: Renew Istimara (Vehicle Registration) in Saudi Arabia
Procedure.
Visit the moroor office, and on the counter tell them your ictimara is lost. and you want to re-issue it. Also, inform the officer that you have paid the fee of lost iqama which is 110 riyals.
The officer will verify the details, and within 5 to 15 minutes, you will get the ictimara.
What If The Iqama is Also Lost With Ictimara?
ALLAH forbid if such a thing happens that both ictimara and iqama is lost. If you are in such a position then you need some additional documents.
A registered police report for lost or stolen documents.
2 photographs (4*6) cm size
Fill the Ictimara issuance form
Copy of Iqama
Copy of Ictimara.
The rest of the procedure is the same. Submit the documents, wait for your turn, and receive the ictimara in few minutes.
However, the best practice is that you re-issue iqama first, and then visit the traffic police office.
Where To Collect Ictimara Card In Riyadh?
We are providing google map locations where you can visit for the re-issuance of the lost ictimara.
Moroor office location In Riyadh. Google Maps 
Timings: 7 AM to 2 PM and 10 AM to 3 PM in Ramadan.
Jeddah Moroor Office
The location of the Jeddah ictimara collection center on google maps. Google Map Location
Timings: 7 AM to 2 PM and 10 AM to 3 PM in Ramadan.
Makkah Traffic Police Office
Makkah residents can visit the moroor office in district Naseem. We are providing the google map location as well.
Ictimara Lost And Expired
It can happen that the ictimara is lost and expired also. You may face it if you are outside of the KSA. However, it is very rare to happen.
So, now, you have to pay a penalty of 100 riyals for ictimara expiry. Pay the regular fee of lost or damaged ictimara. And the rest of the procedure is the same.
What is Ictimara Expiry Penalty?
Moroor charges a penalty of 100 riyals on expired ictimara. However, a grace period of 1 month is also available after expiry. But never wait for expiry and avoid penalty.Also Read: