In Saudi Arabia, you can collect istimara card by visiting the Traffic police (Muroor) office as well as through Saudi Post's Waseel service. In Absher online web portal you can access the Waseel service.
Furthermore, Absher also gives an option for home delivery if you successfully renew vehicle registraion online.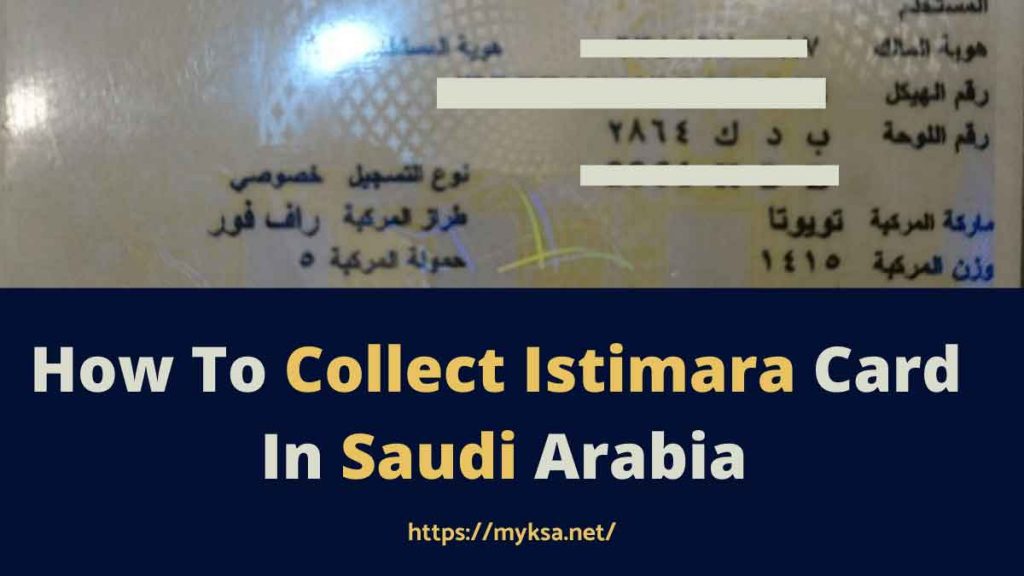 How To Get Istimara From Muroor
You can collect istimara from muroor by visiting the traffic office physically. However, you need to book an online appointment in Absher first. After that, visit the traffic department and collect the vehicle registration.
Procedure
Before you visit the muroor, make sure that you have the old istimara card and your valid iqama as well as the appointment receipt. The complete procedure is as follow,
Book an appointment to visit Muroor office for istimara collection
Visit the office on the given date and the time slot.
Wait for your turn
Submit old vehicle registration.
In 15-20 minutes, you can collect renewed istimara card from muroor.
Istimara Collection Centers
Every major city in Saudi Arabia has Istimara collection center. You can visit them during working hours. Below is the list of the centers working in Jeddah, Riyadh, Dammam, Makkah, and other cities.
Jeddah
If you live in Jeddah, you can collect istimara card from the traffic police center. It is on Sahafa street, Rehab district. They will print istimara at the spot and hand it over to you in half an hour. I am providing its location for your convenience.
Jeddah Location: Google Maps Location
Istimara Collection Center in Jeddah Timings: 7 AM to 2 PM and 10 AM to 3 PM in Ramadan.
Riyadh
To collect renewed istimara in Riyadh, visit the traffic police office situated on Ali Al Farazi Road, Al Munsiyah District. It is in front of Riyadh Elm University Munsiyah Campus. I am providing its location for your convenience.
Location: Google Maps Locations
Istimara Renewal Office in Riyadh Timings: 7 AM to 2 PM and 10 AM to 3 PM in Ramadan.
Makkah
For Makkah residents, the collection center for istimara is located in Naseem District on Fatima Al Zahra Road, After crossing the Al Rajhi Masjid. I am providing the Location as well.
Makkah Muroor Office Location: For Google map location, Click Here.
The timings are 7 AM to 2 PM.
Also Read: