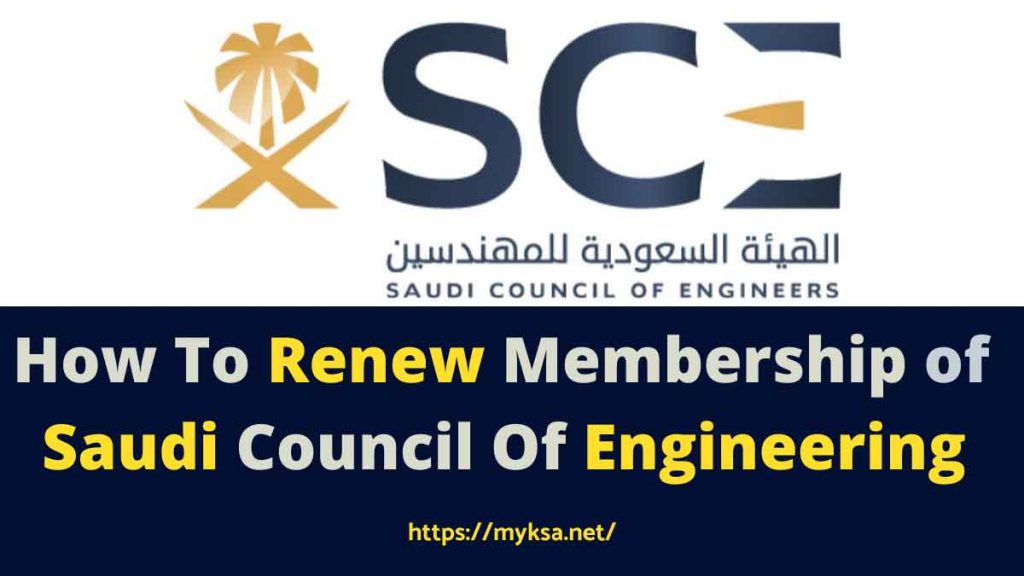 You would know that technicians and all engineers working in Saudi Arabia are required to have an SCE membership. But that's not enough. They are also required to renew their membership to initiate the iqama renewal procedure.
Saudi Engineering Council Membership Renewal
The process of renewal of Saudi Council of Engineering is following;
Log in to your SCE account.
After you log in, select 'Renew membership' option.
A new page will appear, and you must select 'Add new request.'
Enter the duration of membership for how long you want to renew your membership, your Iqama number and Iqama expiry date.
After that, a new page will open which will have your request number for the renewal of membership.
Wait for some hours and then login to your account again.
Open SMS section where you will be given a SADAD number to pay the fee for the renewal of membership.
If you want to renew the membership for 3 years, then you must pay three times the fee.
Pay your fee via ATM or internet banking, SCE Biller Code is 123.
Check your account after payment.
You will get a message that your request for the renewal of the Saudi Council of Engineering membership has been accepted.
Renewal login will be same as your previous login account.
Fee For the Renewal Of SCE Membership
The fee for the renewal of SCE membership is:
For engineers: SR 250/year
For technicians: SR 200/year
INFO
The procedure for the SEC registration for technicians and Engineers renewal is the same. The only difference was when you registered yourself for the first time. And the system asks for your profession, so you selected it accordingly. But in the renewal of SCE membership, the system does not ask again for your course.
Renewal Of Temporary SCE Membership
If you have a temporary membership of SCE from the start, your renewal is only possible if you changed your profession from your Iqama from the relevant discipline to SCE or if you provide degree/certificate relevant to your profession.
Conversion Of Temporary SCE Membership To Permanent Membership
It is better to convert your SCE temporary membership to permanent once you have your relevant degree/certificate. The following steps need to be taken for this process:
Log in to your SCE account by using your ID and password.
Click on the option "convert temporary to permanent membership."
Then select "Add a new request."
Upload your relevant degree/certificate that is required for the conversion of this membership.
Submit your request.
Your request status will turn to 'completed', check it.
After your request is completed and accepted, it is time to file the renewal of the membership by the process that is mentioned above and get your standard membership of Saudi Council of Engineering.
Recommended Read: How To Register Account On SCE For Technicians and Engineers
Problem In SCE Membership from Temporary To Permanent
In case your request from temporary to permanent is not accepted within a few days of submission then. Book an appointment with Saudi Council of Engineering and visit them. They have three branches in Saudi Arabia located in.
What If SCE Membership Gets Suspended?
In case your membership gets suspended, you can do the following things:
Call at Saudi Council of Engineering helpline, i.e., 920020820
Email them at

[email protected]

.
Visit their website www.saudieng.sa.
Directly visit a nearby SCE branch and they will guide you.
How To Renew Expired SEC Membership?
To renew an expired membership, follow these steps:
For a delay of 3 months to 6 months in renewal, you need to pay a penalty of 300 – 600 SR.
Open your SCE account and log in, you can see your status as 'expired.'
Original Iqama, Original Course Certificate (1 year+), and payment of fees for SCE renewal will be required.
Bring these documents with you and visit Saudi Council of Engineering during its working days.
Take a token number and wait for your turn.
On your turn, the SCE officer will check your documents.
After checking your documents, he will direct you to another counter.
Make the payment there for your SC renewal
Your membership will be renewed.
Check your status from SCE online website.
Iqama Renewal During Valid SEC Membership
You can apply for Iqama renewal as an engineer in Saudi Arabia if you have valid SCE membership. For staying away from any kind of trouble, you must apply for Iqama renewal at least three months before your Iqama expiry.
Take a screenshot of photo of your renewed membership from SCE website.
Inform your employer that your SCE is renewed.
Your employer will now renew your Iqama.
Always check your pending payments at SCE before Iqama renewal.
If you have not renewed your Saudi Council of Engineering membership, then you can be deprived of the following facilities:
Family travel visa
Cheap internet
Mobile, car insurance
Training workshops
Free visa entry into Qatar and UAE
Your Iqama will not be renewed
Also Read: