Iqama fine refers to a violation due to which Saudi Jawazat, Muroor, Baladiya, or any other Government authority imposes a fine or penalty on the Resident (iqama holder). You must check iqama fine if you receive an SMS informing you about a penalty being imposed for any reason.
Types Of Iqama Fine
Iqama fine is categorized into 4 main categories and the iqama violations fall under any of these types.
Iqama system violation Fine
Traffic violation fine
Iqama expiry fine
Baladiya fine
To check iqama fine you can use the Saudi national violation portal – Efaa.sa or the Absher platform.
Efaa.sa
Efaa.sa is a dedicated platform for iqama fine check and you can use it in two ways;
Check fine on your iqama along with the total amount to be paid – a brief summary
Check all violations on your iqama by logging in and getting complete details about the fine, imposing agency (Muroor, Jawazat, etc.), and also the fine payment history.
Below are both procedures;
Saudi Iqama Fine Check
Visit https://efaa.sa/
Click on "Individual"
Type "Iqama Number"
Enter either "Date of Birth" or "Violation number"
Click on "Inquire"
Enter the 4-digit code sent on your mobile
The Efaa checks violation on your iqama and shows the total penalty amount paid or unpaid.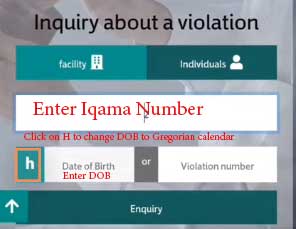 Check Any Fine On Iqama
The details of iqama fine are available on Efaa including its history, date and time, place, penalty amount and payment details. To check violation on your iqama do the following;
Visit Saudi National Violations Platform efaa.sa
Click on Login and then select Individuals and Business
Log in using either of the portal login details

Use your Nafath app account or
Click on Username and Password and enter Absher account credentials

Enter the 4-digit OTP received on your mobile
Efaa.sa shows all iqama violation details on the dashboard.
Getting More Details About Violation/Grama
Now if you click on Violations History, the platform shows you all fines and penalties paid or unpaid.
Click on the eye icon under the details tab for more information
If it's a traffic fine you can see the violation details, for example, a fine for not wearing a seat belt, time and date, and the place where it happened.
How To Check Iqama Violation In Absher
You can also check iqama violations in the Ministry of Interior's Absher however the portal only helps in checking traffic violations especially if any of your family members gets a penalty.
To check fine the procedure is as follows,
Log in to your Absher account https://absher.sa/
Click on Detailed Query Traffic Violation
Select the family member.
The Absher shows details of the violation under the Family Members Violations tab.
Pay the Fine or Raise a Dispute
After checking the iqama penalty you have only two choices ;
Pay the iqama violation
Raise a dispute with the concerned authorities to cancel the fine.
The simpler way to clear your iqama fine is pay it through any banking channel. However, if you believe that you haven't committed the violation then go for raising the dispute.
Your penalty will be waived if you prove you didn't commit any violation. However, you can raise a dispute only on those violations that have the "Raise Dispute" status.
Also Read: