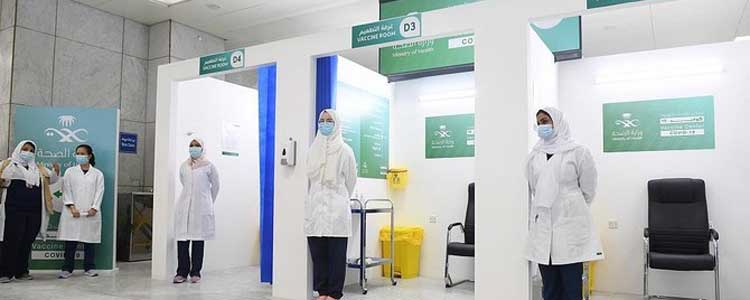 Dr. Tawfiq Al-Rabiah, Saudi Health Minister inaugurated a new coronavirus (COVID-19) vaccination center at Prince Mohammed bin Abdullah Al-Faisal Stadium, south of Jeddah on Wednesday.
Dr. Meshal Al-Sayali, director-general of Jeddah Health Affairs, and a number of health officials as part of the national campaign to fight the pandemic were present at the inauguration ceremony.
The new center consists of 60 clinics and can vaccinate up to 15,000 people per day. It is managed by specialist medical staff and exclusively designed to receive large numbers of beneficiaries.
The health minister also visited the General Medical Authority and the COVID-19 vaccine center at King Abdul Aziz Hospital in Jeddah.
On Wednesday, the kingdom reported 15 more corona virus-related deaths, increasing the numbers to 7,503.
1,274 new cases were reported, totaling that 461,242 people in the country have infected by the disease. A total of  9,929 cases remained active, of which 1,565 patients were in critical condition.
The new cases were recorded 437 in Makkah, 277 in Riyadh, 180 in the Eastern Province, and 87 in Madinah province.
In addition, the ministry announced that 1,028 patients have been recovered from the disease, increasing the total number of recoveries in the Kingdom to 443,810.
Saudi Arabia so far has conducted 20,021,161 polymerase chain reaction (PCR Corona Virus) tests, out of which 92,124 carried out in the past 24 hours.
Testing hubs and treatment centers set up throughout the country have dealt with hundreds of thousands of people since the COVID-19 outbreak.
The main testing and treatment hubs, Taakad (make sure) centers provide COVID-19 testing facility for those who come into contact with a coronavirus patient or the people showing no or only mild symptoms.
Tamman (rest assured) clinics offer special treatment and advice to those with acute virus symptoms such as fever, loss of taste and smell, and breathing difficulties.
The health ministry's Sehhaty app provides appointments for both clinics. 15,267,184 people have received their first dose of coronavirus vaccine till now, The ministry announced.
Also Read: