Individuals who get a job in GCC countries (Saudi Arabia, UAE, Bahrain, Kuwait, Oman, Qatar) and apply for a Work Visa must pass some medical tests and get a report from Gulf Health Council (GAMCA / GCCHMC).
You can check your GAMCA medical test report status through the GCCHMC online website.
Check GAMCA Medical Status
You can check your medical report through the GCCHMC website by
Passport Number
GCC Slip Number
First of all, visit the GCCHMC website; v2.gcchmc.org/medical-status-search/
If you choose the first option then enter your Passport No
Select your nationality
Enter the 5-digit visible Code.
Click on Generate.
Your report will be displayed on the screen.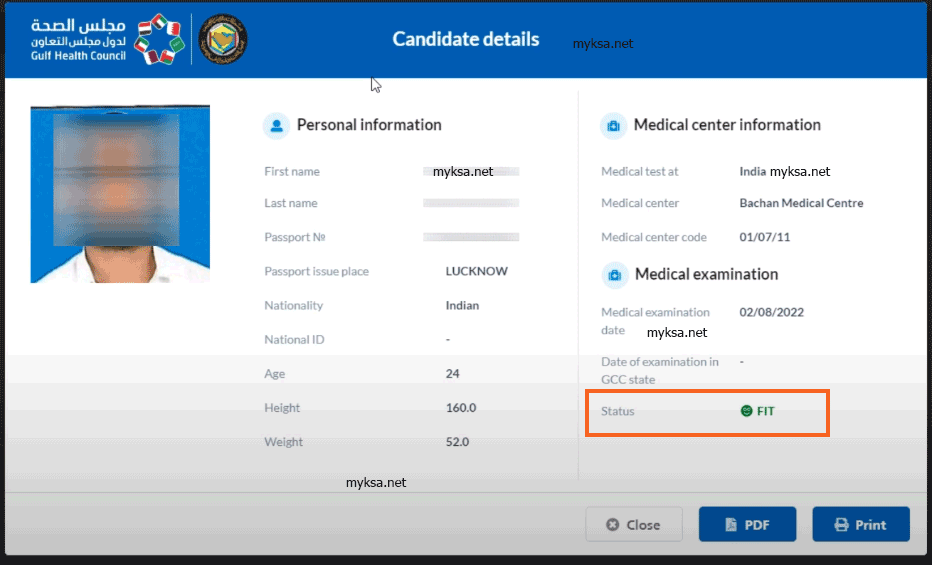 If your Gamca Medical report status shows as "FIT", then it means that you have passed the medical and can go further to process your Visa.
Validity Of GAMCA Fit Report
Once you've been declared Fit on the GAMCA Medical Report, you have 90 days to stamp your Visa on your passport. If you have been declared Unfit, you'll have to wait six months before applying again.
NOTE
Do not try to Bribe someone to pass the GAMCA medical test. Even if you do, there are multiple tests that you need to pass. You might fail another test and end up wasting both time and money.
How To Take The GAMCA Medical Test
You can follow the following steps to take the Medical Test for Saudi Visa:
Go to https://v2.gcchmc.org/ and book an Appointment.
Print the Appointment Slip and visit the medical center on the mentioned date. The slip is valid for 30 days
You must also pay Saudi Medical fees(Approx 300 SR) in your local currency at the medical center.
In Pakistani Rupees: 18,400
In Indian Rupees: 6,300
Documents Required For The Test
The following documents are mandatory for taking the GAMCA medical test:
Appointment Slip
Four Passport-Sized Pictures
Original Passport & Photocopy
Original NIC & Photocopy
You can take the tests if you have all the documents and meet every other requirement.
GAMCA Medical Tests You Need To Clear
It is essential to ensure that you are medically fit to work in the Kingdom of Saudi Arabia. For this purpose, GAMCA requires you to clear the following tests:
HIV/AIDS reactive.
Physical Disabilities
HBsAg (Hepatitis B surface antigen) HCV reactive.
Microfilaria-positive and malaria blood film positive
Chronic hepatitis failure.
Diabetes mellitus.
Known case of cancer.
Congestive heart failure.
Tuberculosis – any X-ray photofluorography showing active PTB or any past record of PTB.
Pulmonary scar, including minimum fibrosis, pleural effusion, tuberculosis lymphadenitis, and calcification (granuloma) pleural thickening.
VDRL/TPHA reactive.
Chronic renal failure.
Hypertension.
Psychiatric disease and neurological disorders
The same tests apply to the other GCC (Gulf Cooperation Council) countries,
Exceptions For Pregnant Women & Children
There are some exceptions for pregnant women and children under 12 because they must be protected from radioactive exposure. The medical center will require a NOC from the Saudi Embassy to examine pregnant women. Here's what you need to do:
Go to the Etimad office and submit the following documents:
NOC Form
MOFA Visa Slip
Ultrasound Reports
Pregnancy Report Attested by the Doctor
Within seven days, they will give you an x-ray exemption letter.
Take the letter to GAMCA; they will refer you to a medical center.
Take the pregnant woman to the assigned medical center. They will do routine medical examinations like blood and urine tests.
NOTE
If you are more than seven months pregnant, the airline might ask for a letter from your doctor confirming that you have a healthy pregnancy and that you're not at risk.
For children under 12, no laboratory checkups are required. They need to visit a GAMCA-approved medical center with:
Original Passport
2 Photos
Visa
They will check the child's weight and height and inquire if the child is getting regular vaccinations. After confirmation, they'll issue a medical Fit certificate.
Also Read: