You can find Vehicle sequence number in Saudi Arabia by:
Reading the code on Vehicle Registration (Istimara) card
By loggin in Absher online web portal and looking in 'Vehicle Details'.
On the windscreen of the vehicle
What is Vehicle Sequence Number (VSN)
The vehicle sequence number is an identification code for a specific vehicle. In Saudi Arabia, it consists of 9-digits. The VSN displays specifications and information about the manufacturer.
The vehicle registration authority in KSA keeps all records related to the vehicle through this code. Besides, this is not the number plate or the registration number.
VSN is required for paying the vehicle registration fee. Sadad generates a payment code through this number to pay the amount through the banks.
In addition to that, add a zero in the beginning while paying the fee to make it a 10-digit number.
Find Vehicle Sequence Number
To find vehicle sequence number,
Look at the Vehicle Registration (Istimara) card
You can find vehicle sequence number in istimara card. Just grab the vehicle registration card from your wallet and look at the last information, written in Arabic as الرقم التسلسلي that is the VSN.
Besides, the Absher platform also provides a method that is,
Use Absher App
Because Absher online portal Saudi Arabia keeps the records of the vehicles registered under your name. That's why the vehicle sequence number is also available on the platform. To find it,
Log in to Absher app
Tap 'My Vehicles' tab available in the bottom right corner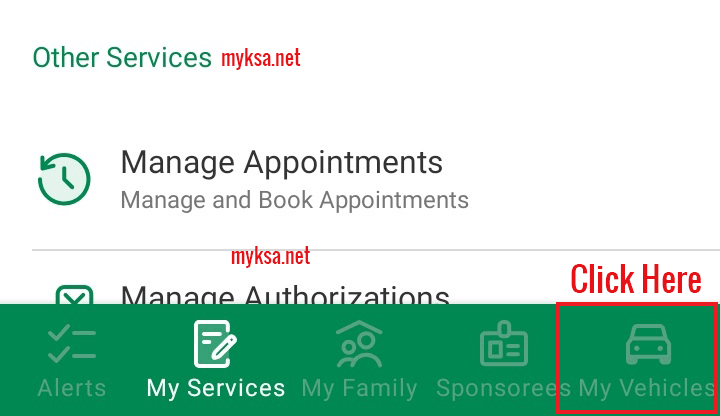 Under 'Vehicles' tab, tap the Vehicle name
Scroll down the vehicle details until you find the code.
On The Windscreen
If you observe the windscreen of a vehicle closely, then you may notice that some codes are written on it. The vehicle sequence number is one of them printed there. Look at the windscreen just above the dashboard. You will find a sticker. Read it and you will see the code.
Also Read: