If you want to visit the Jawazat office for any reason, i,e for naqal maloomat, iqama renewal or newborn iqama, You need to take jawazat appointment in Absher. And here is the complete procedure.
Take Absher Jawazat Appointment
Visit Absher online web portal
Click on Appointments
Select 'Passports' in the Appointments menu
Now click on 'Proceed to Service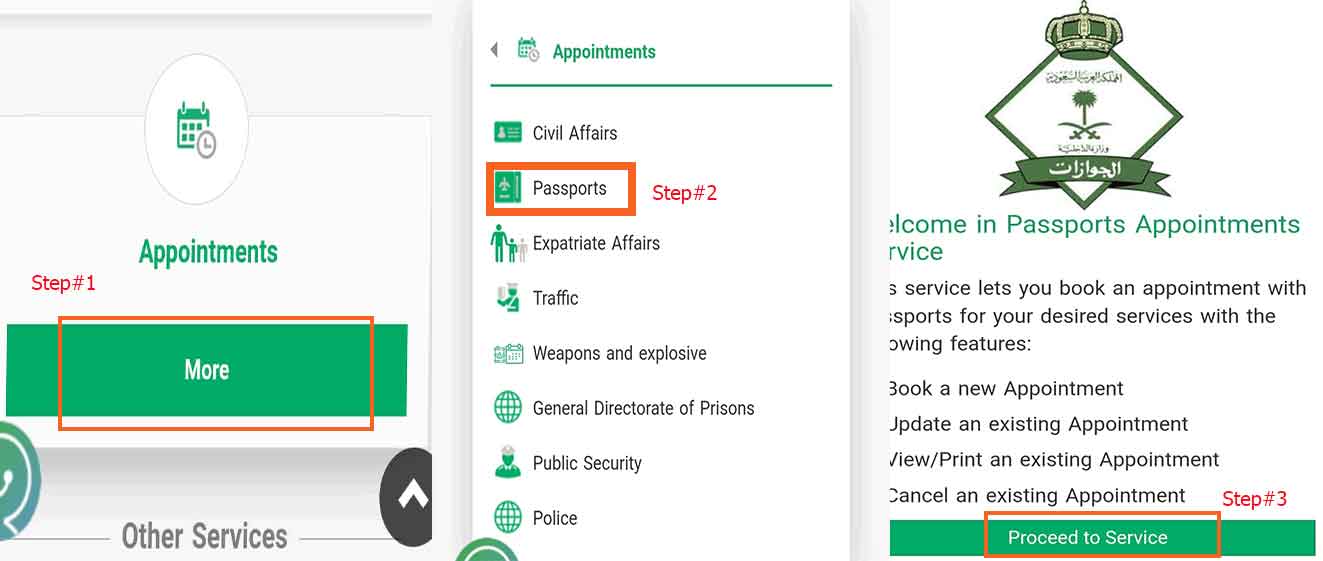 Select 'Book New Appointment'
Provide relevant information for the following mandatory fields.

In Services, select any of the following options.

Absher registration for men, ; select تسجيل السمات الحيوية للوافدين (رجال)
Fingerprints and Absher registration for dependents ; تسجيل السمات الحيوية لمرافقي الوافدين
Nakal Maloomat, Passport update, iqama for newborn, change picture on iqama and all other services related to Jawazat for expatriates; select 'Resident Services'
For internally displaced citizen ; تجديد بطاقة القبائل النازحه

Select the Region

Makkah Region; Jeddah Makkah and surrounding towns and cities
Riyadh Region; Riyadh and nearby towns
Eastern Border; Cities on the eastern border
Number of Transactions; 1-5. For example, if you just want to update passport information only, then select 1
Click on Next
Select the city and the passport office (Jawazat) near to you
Choose the available date and time slot

Green slot: Available
Red Slot: Reserved/Unavailable

Check the details, eg, city, branch, date, and time, and click on 'Confirm Appointment Details'
On the next screen, you will see the confirmation of the jawazat appointment through Absher. To download, save and print the appointment, click on the 'Print' button. In addition to that, you can also take a screenshot on your mobile.
Also Read: How To Update Absher Account Online
How To Update Jawazat Appointment
If you want to update the appointment for any reason, let's say, you want to change the date, time, and the muroor office then you can update the jawazat appointment easily. the procedure is below.
Click on 'Appointments' after logging into Absher.
Select 'Passports'
'Click on 'Proceed to Service'
Select plus + sign
Click on Update Appointment
Click on ' Update Complete Appointment'
Update the date time and services.
For the Latest Guides, News, and Updates, Like and Follow us on Facebook, Twitter, and Pinterest.
Also Read: