Obtaining a driving license means that you are able to not only drive but also well aware of the necessary traffic rules, regulations, and road signs. Furthermore, it is illegal to drive without getting a driving license and this can lead to hefty fines and penalties.
If you live in Saudi Arabia and want to apply for a Saudi driving license, you can do that through the following procedure.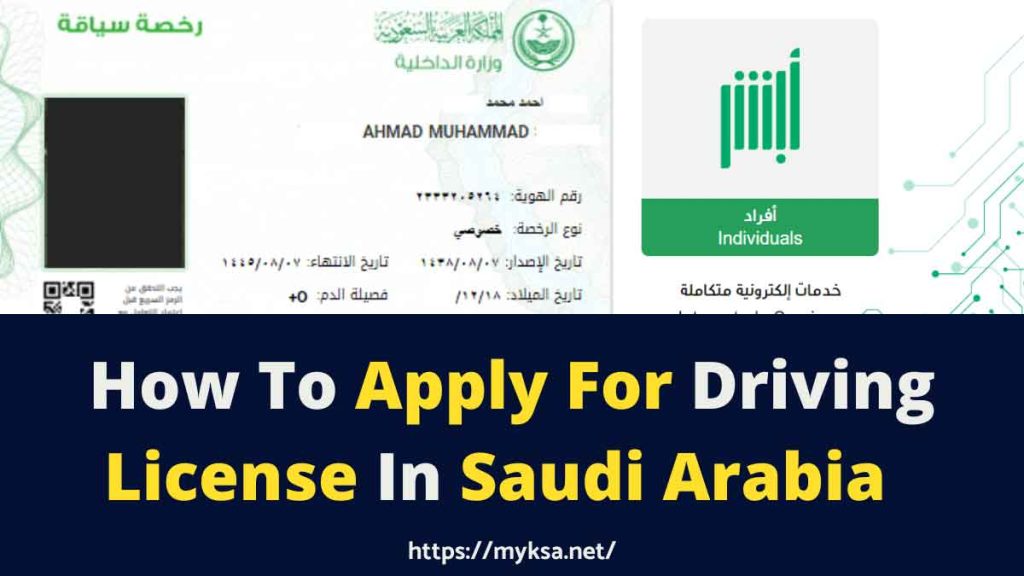 Types of Driving License in Saudi Arabia
Before I explain how to get driving license, it is very important for you to know what types of licenses are available and which type is right for you.
Private vehicle driving license
Motorbike driving license
Public vehicle driving license
Heavy vehicle driving license
Diplomatic Driving license
Private Vehicle Driving License
The term private vehicle is used for all types of vehicles that you can buy for your personal use in Saudi Arabia. It can be a car, an SUV, a minivan, or a pickup truck. For these types of vehicles, you will apply for "private driving license".
There are two types of private license based on the gear type of the vehicle;
Having a "normal private license" means that you can drive all types of private vehicles but if you apply for an "automatic vehicles license" then you are not legally allowed to drive any manual gear vehicle.
Now it depends on you which type you prefer.
Eligibility To Apply For Saudi Driving License
You are eligible to apply for a Saudi driving license if you fulfill the following criteria
Minimum age of 18 years ( see more about age criteria below)
Valid iqama
Active Absher account
No previous fine or penalty is unpaid.
Documents Required
Medical test from any Efada approved hospital. The hospital will electronically send the result to the Traffic police system
Pay the driving license fee (For details see below)
Saudi driving license application form – Properly filled. It's good if you can duly fill out the form, otherwise, ask an agent to fill it out, sitting outside Dallah driving school and charging a nominal fee of 20-30 riyals
Iqama Copy
Passport copy
4 photographs (4*6cm) with white background
A file to arrange the documents
Additional Documents
If you have a driving license from another county then provide the following additional documents.
Arabic translation of the driving license issued in another country
Passport copy with the visa in case you are living on a visit visa.
Visiting Dallah Driving School
So you find yourself eligible, arranged the required documents to get Saudi driving license, and successfully booked the appointment in Absher. Now it's time to visit the driving school.
Try to arrive early at least 15 minutes. Show your appointment and get a token for document verification. Once you submit, you will go to a vast training ground.
Assessment of Driving Skills Through a Brief Driving Test
After reaching the ground you will find two queues of people۔ One is for those who want to take the test on a manual vehicle and the other is for those who want to get a license for an automatic vehicle.
Keep in mind that choosing an automatic vehicle means that you can only drive an automatic vehicle. And on your driving license, you will have a restriction code '1'
Select the vehicle (manual or automatic) as per your choice and wait for your turn. If you own a driving license issued by a Left-hand drive country, i.e. Pakistan, India, Srilanka, you will go through the initial driving test.
You will attend the driving school for a duration between 6 hours to 30 hours if you pass the test.
But if you have a license in a Right-hand drive country, then there will be no driving assessment test but a final test. If you pass it then you don't need to attend Dallah driving school.
Things To Keep In Mind While Taking The Driving Test
You must keep the following things in mind while taking the driving test as per my experience.
As soon as you sit in the driving seat, fasten the seat belt, and adjust the seat, the back mirror, the side mirrors, and the steering.
If the mirrors are adjusted to "reverse", pointing at the tires, don't change it. Cos it will help you in the L-shape reverse test.
Start the car in "Neutral"
Drive with full confidence.
Take care of the traffic signs and stop at the yellow light and then move ahead.
Keep an eye on the speed. Don't drive too fast or too slow.
Follow the instructor. Most probably it would be Arabic speaking, therefore learn a few words like "Wagif – stop", Yalla – Start", "Yasaar- Left" and, "Yameen – Right"
Computer Test
The next stage to get a Saudi driving license is passing a computer test. If you passed the driving test with an "A" grade you will be asked to take a computer test that consists of 20 questions to be solved in 30 minutes.
You have to correctly answer 18 questions and you are good to go. To take the computer test you will do the following.
Deposit a fee of 100 riyals
Take your test slip and wait for your turn
After the test, the result will be announced shortly. If you pass both tests you are eligible to get driving license.
Driving School Timings
There are many schools working under Traffic Police-Muroor with different timings. The most famous one is Dallah driving school Following are the timings for Dallah driving school.
Sunday – Thursday – 7:00 AM-9:00 PM | Friday – Saturday – Closed
Driving License Fees
Driving School Fee

For 6 hours of training: 690 Riyals
For 15 hours of training: 1466.25 Riyals
For 30 hours of training: 2760 Riyals

Driving License Fee

For 1 Year license: 40 Riyals
For 5 years license: 200 Riyals
For 10 years license: 400Riyals

Computer Test Fee
Driving license form and file preparation fee
Total Driving License Fee
690+200+100+50= 1040 Riyal Approx
Collecting Driving License
Once you have successfully passed the driving test and the computer test, you will submit your documents file to the Muroor officer at the collection counter. Ask him about the printing of your iqama.
The officer may ask you to wait for some time so that the hard copy of the license is printed and you can receive it.
However, as happened to me, the officer may ask you to leave and receive the license after a few days.
There is also another way to collect your license through Saudi Post by paying very nominal delivery charges.
Fine For Driving Without License In Saudi Arabia
Driving without a valid driving license is a traffic law violation. A fine of 500-900 riyals is imposed on the violator. Furthermore, upon the repetitive violation, the vehicle can also be confiscated by traffic police.
Age Criteria
The Saudi traffic laws set age criteria for the applicants applying for license which are as follows;
A young person of 17 years can apply for "Temporary driving license" for a period of 1 year
The minimum age to apply for driving license is 18 years both for men and women in Saudi Arabia
For public vehicles (taxi, bus, trollers, or other public transport vehicles) driving, the minimum age to get the license is 20 Years.
Also Read: