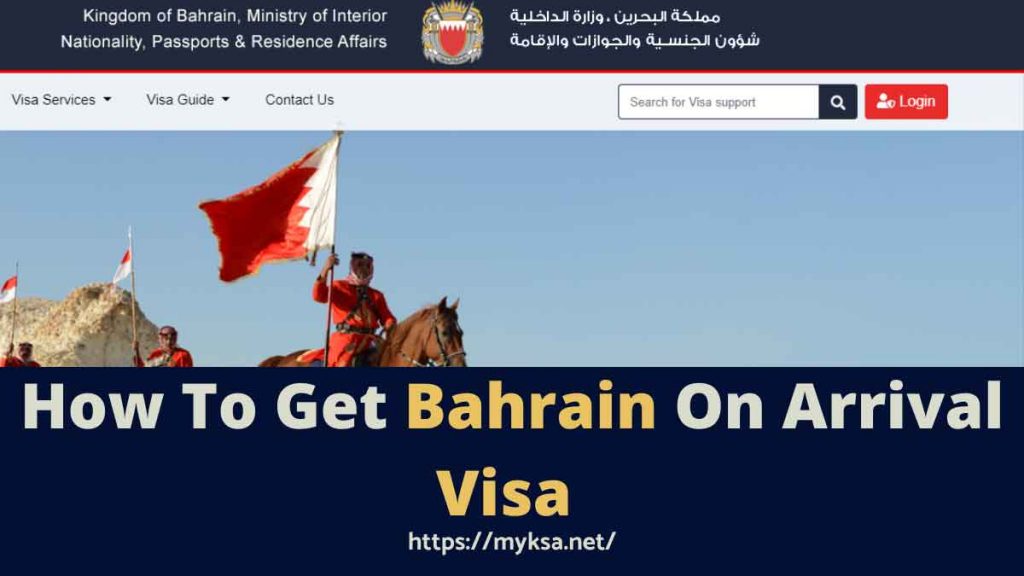 You can get Bahrain on-arrival visa on the King Fahd Causeway or Bahrain International Airport.
The on-arrival visa is granted to those with a valid Saudi Iqama and a return ticket to their home country or Saudi Arabia.(The same applies to all GCC nations).
The dependents of the person are also eligible for the on-arrival visa. However, there are a few requirements you must fulfill:
Who Can Get Bahrain On-Arrival Visa?
The Bahrain on-arrival visa is available to Saudi residents. This visa is for people living in Saudi Arabia who wish to visit Bahrain for a short time.
To get this visa, you must be an expat with a valid Saudi Iqama and have a confirmed return ticket(If you're traveling by air).
You cannot apply for this type of visa if you are not a Saudi Arabian resident or do not have an exit ticket from Bahrain.
It is mandatory to apply for a Bahrain e-visa at www.evis.gov.bh If you want to take your family to Bahrain with you. The family members you want to take with you must accompany you to the border to get them on-arrival visas.
Read About: How To Check Exit Re-entry Visa Validity
Bahrain Visa Requirements For Saudi Iqama Holders
Following are the requirements for Iqama holders to get an on-arrival visa:
Passport with six months validity
Valid Iqama with three months validity
At least three months passed since the iqama issuance
A valid Istimara (vehicle registration card). The Ministry Of Interior issues it.
A valid re-entry visa from KSA
Tawakkalna Immune Status (Confirmation that you've taken all mandatory Covid tests) 
For a rented car, a NOC to cross the border.
A return ticket to KSA (If traveling by air)
A suitable profession that matches Iqama Profession List.
Recommended: How To Cancel Final Exit Visa For Dependents
There are fewer requirements for the dependants to meet:
Passport validity of 6 months or more
A valid multiple entry visa
A print of the online application at Bahrain e Visa
Tawwakalna Immune Status
Types Of Bahrain On-Arrival Visa
Through an on-arrival visa, you can enter Bahrain in two ways:
The two types of on-arrival visa have different validity and fee.
Entering Bahrain By Air
Follow these steps to obtain Bahrain on-arrival visa once you arrive at the airport:
Go to the Bank Counter and pay the Visit Visa Fee of 250 SR or 25 BD.
You'll get an on-arrival visit visa form from the counter; fill it out.
Next, go to the eye-scanning counter.
Now go to the immigration counter and provide all the required documents.
If everything is cleared, you will be granted an on-arrival visa in Manama, Bahrain.
INFO
To save money, you can apply for a single entry visa online. You'll have to pay 250 SR or 25 BD per passport.
Features & Validity
The on-arrival visa obtained at the Bahrain International Airport has the following features:
It is a multiple-visit visa, which means you can leave and enter Bahrain multiple times with this visa.
It is valid for three months, and you can stay in Bahrain for 30 days per entry.
The validity can be extended by paying a fee to the Kingdom of Bahrain.
Recommended: How To Check Huroob Status Before Applying For Visa
Entering Bahrain By Road
Once you reach the border on King Fahd Causeway, your exit will be processed by an immigration officer.
You have to pay a vehicle toll fee of 25 SR or 2.5 BD.
You'll also pay 35 SR or 3.5 BD as insurance cost.
Once all the documents are processed, your passport will be stamped with a Bahranian Visa.
Features & Return
The on-arrival visa obtained by road has the following features:
It is a single-entry visa, which means you can only enter Bahrain once on it.
The visa has two weeks validity which cannot be extended.
On your return from Bahrain to KSA, your passport will be stamped with an exit from Bahrain and entry into Saudi Arabia. Once in the Kingdom Of Saudi Arabia, the visit visa holder and his family can stay in the kingdom for additional 90 days.
How To Apply For Bahrain On Arrival VIsa Online
To apply for an e-visa online, Go to https://www.evisa.gov.bh/VISA/visaInput and do the following:
Selection Criteria
Do you have a valid GCC permit? YES
Select your country: Saudi Arabia
Purpose of your visit: Tourism
Detailed purpose of visit: Exhibition
Select your nationality: 'Your Nationality.'
Fill out the captcha and click on Next
Online Form & Documents
You will get a list of visas to apply for. Click on Visit-Single Entry(GCC).
The application form will open.
Fill in the form according to your passport and click Next.
Add all the mandatory documents.
Submit your application.
Submit Another Application & Charges
If you want to apply for your family too, it is recommended to apply at the same time:
Click on Submit Another Application.
Follow the same process for every family member's application.
All the applications you submit will appear with a reference number for each.
Now, you have to pay the fee of 40 SR on document submission and 50 SR upon verification, or 90 SR altogether upon verification.
Also Read: