Whether you or your family is going to Saudi Arabia on a family visa, work visa, umrah, hajj or visit visa, you have to visit etimad office to submit your documents for visa stamping and, for the biometric verification
For this purpose you have to book etimad appointment which you can easily get online through Tasheer portal. The booking procedure is as follows;
1- Visit Tasheer Online Platform
To get an appointment you need to visit the Tasheer portal and follow the steps below.
Visit Tasheer platform , tasheer.com
Select your country
The system will open the main dashboard of the portal to start the Etimad appointment procedure.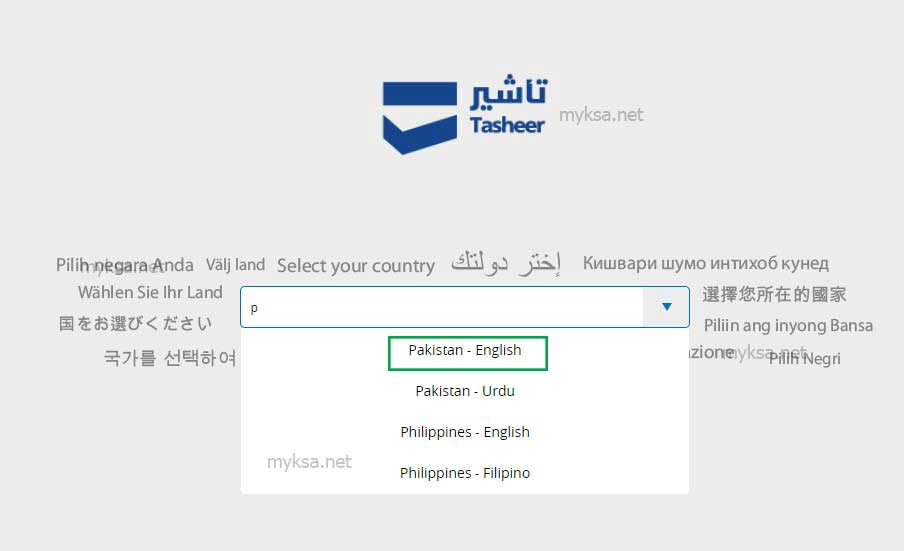 2- Schedule an Appointment
Click on 'Schedule an appointment
A notification will appear, just click on "OK" button
A page with the headings "Earliest Available Appointment Date" page will open. You need to enter the following information on that page;
Enter "Nationality"
Select " Visa Category"

For single entry family visit visa: select "family visit"
For multiple entry family visit visa with 1 year validity: select "Family Visit Multiple Entry 1 Year"
For permanent family visa: Select "Resident"
For Umrah Visa: Select "Umrah"
For work visa : Select "Work"
For premium residency: Select "premium residency multiple 1 year"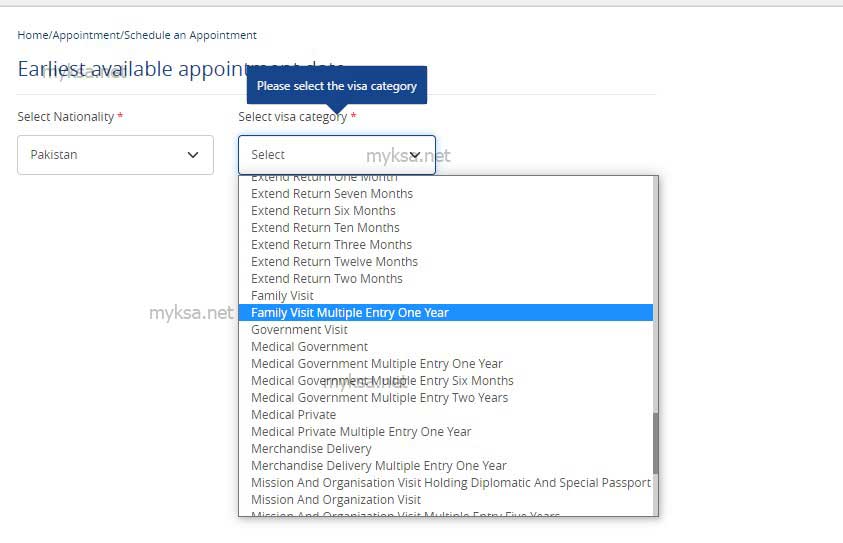 Scroll down the page, checkmark the "consent" and click on "Continue"
Now checkmark " I have read and agree to the terms and conditions" and then click on "Accept"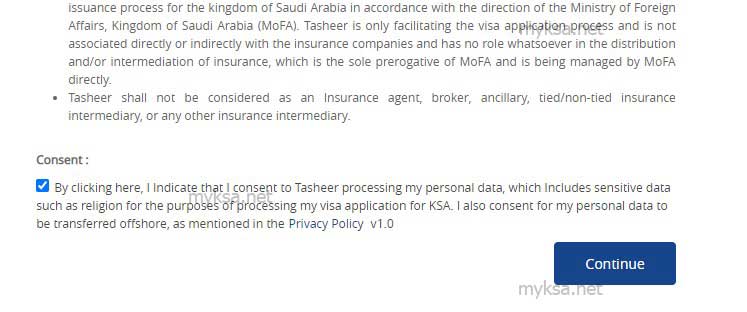 3- Enter Visa Details
In this section you have to enter the following details.
Select Visa Category
Just leave it as it is because you have already selected visa type in "Visa Category" while scheduling the appointment ( Step-1).
Visa Details
Your visa application is for; choose one of the given option
Select "Individual" if only 1 person is applying for visa. For example ( mother, father, brother, sister, wife, husband or a child only)
Select "Family" if 2 or more family members are applying for visa. ( i.e. wife and children, wife and mother, mother and father, brother and sister etc.)
Checkmark the "Consent" and click on "Next"
4- Enter Sponsor Details.
Now enter the sponsor's details
Invitation / Pre approval Number : Enter the visa number
Sponsor id number: enter the iqama number
Click on "Next"
5- Fill the Etimad Appointment Form
On the next screen a page with the heading "Applicant Details" will open. Here you have to enter the following data of the applicant;
First name
Last/Family name
Gender
Marital status
Nationality
Religion
Occupation
Qualification
Contact Number with country code without "+" or "00" (e.g. 923001234567)
Valid Email Address
Select Saudi Mission Office from where the visa has to be stamped
Port of entry
Transport Mode
Number of entries : Select the same visa type that you chose in the visa category.
Passport Information
In this section enter the following details of the applicant
Passport number
Re-type passport number
Place of issue
Date of issue
Passport expiry date
Place of birth
Date of birth
Do you have Arabic passport : If you don't have an Arabic passport, simply select the option "No"
After filling the above details, click on "Next"
6- Select Appointment Date
On this page, select the most suitable date on which you could visit the Etimad center. Here you will see three options to select
Appointment Date
List of cities where Etimad centers are located
Appointment Category
First of all, select the nearest etimad centre. It can be in the city where you live or in the city nearest to you.
ٖFor Pakistani citizens, whose visas have to be stamped by Saudi Embassy Islamabad can also visit Lahore and Peshawar centers apart from Etimad center Islamabad.
Similarly, people with Karachi visa can also visit Quetta center as well as Karachi Etimad center.
After selecting the desired center, now select the suitable visiting date. You can scroll right to look for more available dates.
And, in the last, select the appointment category. There are 2 categories;
The Etimad fee depends upon selecting the category as there is a huge difference in the charges. People selecting "Normal" category pay less as compared to selecting the "Lounge" category.
Choose Time Slot
Now choose the time slot that suit you between 10:30AM till 4:45PM.
Every appointment lasts for the 15 minutes and during that period the applicant's documents verification and the biometric / fingerprint verification is done.
Select the desired slot and click on "Next"
7- Review Etimad Appointment
Your Etimad appointment procedure has completed and now its time to review and confirm the appointment.
Take a look at applicant's details (Name, date of birth and passport number) , appointment date and time and, Etimad center location.
Value Added Services
You can select following value added services while reviewing the details.
Upon subscribing the SMS service, the applicant will be informed about visa stamping status on SMS as well as in his email. However a fee of almost $1 (it is almost PKR 270 for Pakistan) is charged.
The courier service means that the applicant will receive his passport through courier so that he doesn't need to visit the center.
Once your are ready to go, click on "Confirm & Book". And with that, you have successfully got Etimad appointment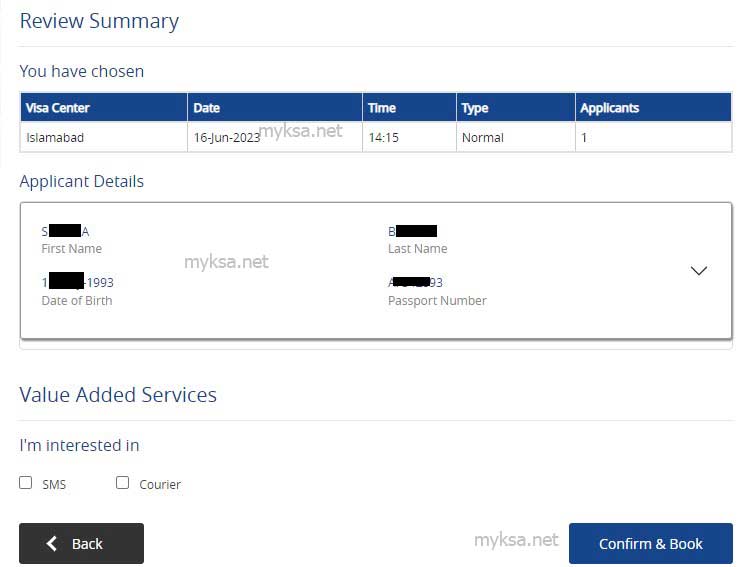 Print Etimad Appointment Letter
Etimad appointment letter is one of the required document to visit Etimad center on the appointment day and you can get it in 2 ways.
1- As soon as the Emitad appointment procedure completes, the system opens the appointment letter containing all relevant details. Now you can do 2 things, Either directly print the letter or save it in your computer.
To print the letter, click on the print icon available on the top right of the page
To save the letter, click on save button, available next to the print button.
2- The 2nd method to obtain or print etimad appointment letter, is as follows;
Visit the Tasheer portal. https://vc.tasheer.com/
Select your country
Click on "Appointment" and then click on "Reprint Letter"
Enter any of these 2 details;

Appointment Reference Number
Passport Number of the Applicant

Enter Applicant's date of birth
Checkmark the captcha code
Click on the "Submit" Button
The system will open the appointment letter. You can save it or print a hard copy. However this document is password protected and whenever you want to open it, type the main applicants passport number as password.
Etimad Appointment Reference Number
Upon successful completion of the appointment, Etimad assign a 10-digit unique number, also called etimad appointment reference number, made up of mix of random letters and numbers.
The applicant can use this number to track status of the visa stamping, print the appointment letter or, reschedule the appointment.
how to check etimad Appointment reference number
If you closely look at the Etimad appointment letter, you can find a bar code on the top right, and just below the bar code, the Etimad appointment reference number is written.
The Etimad centers scan the barcode or type the reference number on their systems to get all data of the applicant in order to initiate the visa process and the biometric verification of the applicant.
How To Check Etimad Appointment
If you want to know whether your appointment has been successful or not, you can check your Etimad appointment status in the following way;
Open the Tasheer Website
Select your country
Click on "Track Status" on the home page.
Now enter either "Appointment Reference Number" or " Visa Number"
Enter Date of Birth
Click on " Get Details"
You will see the following message upon successfully getting the appointment.
" Your Appointment is Booked on "Date" and "Time""
Read more: How to check gamca medical report status
How To Reschedule Etimad Appointment
You can also reschedule your appointment if for any reason you are unable to visit the Etimad center on the pre-booked date. The procedure is as below;
Visit the Tasheer website. vc.tasheer.com/reschedule
Select the country
Click on "Appointment" and then select "Reschedule"
Enter any of the following details

Appointment Reference Number
Passport Number

Enter Date of Birth
Click on the captcha code
Click on Submit
Select the new date and time
Click on "Confirm and Book"
A pop up window will appear, To reschedule Etimad appointment, click on "Confirm"
On the next screen, you will see the following message;
"Your appointment has been rescheduled successfully"
Frequently Asked Questions:
What documents are required for a Saudi visit visa?
The required documents for a family visit visa are:
Etimad appointment letter
Visa slip
Original passport (6 months validity)
CNIC of the applicant
2 pictures with a white background
Passport + Iqama copy
Vaccination card (for children)
Relationship evidence
Marriage certificate
Muqeem Paper
How do I book an appointment with Etimad?
You can book an appointment with Etimad from their online portal "vc.tasheer.com" which will save you both time and money.
From their website, go to 'schedule an appointment, write in all the mandatory information, and take a printout of your appointment details.
How can I check if my family visit visa is stamped or not?
You can check whether your family visit visa is stamped or not from the official website of 'ENJAZ' by using your visit visa and iqama number.
Also Read: